Commentary
The best of the CWS (so far)
Storms, guts, personality and late-inning heroics highlight College World Series
Updated:
June 24, 2011, 5:43 PM ET
By
Ryan McGee
| ESPN The Magazine
Welcome back to Three Hits & Bunt, College World Series Edition. I get out to Omaha on Monday morning for the best-of-three championship series, which can't come soon enough for me. I've already packed my laptop, sunscreen, poncho and bib to tie around my neck at one of the finest steakhouses in Omaha, The Drover.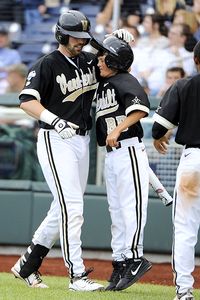 Getty ImagesVanderbilt has made a nice run in its first trip to Omaha.
This week we're tossing out the standard four-hit format to take a look back at the Series so far. There is nothing in all of sports quite like the first week of the CWS. Nothing. And as the field of eight is pared down to the two championship series combatants, we've seen everything from third-out catches thrown into the grandstands to storm fronts that made us all want to scream "Auntie Em!"
What's been the best and worst of the Series so far? My list follows. But be forewarned, I'm not getting into TD Ameritrade Park critiques until I get out there next week and see the new ballpark for myself.
If you want more outstanding highlights of the 2011 College World Series, become an ESPN Insider today.
Insider
ESPN The Magazine, NASCAR
ESPN The Magazine senior writer
2-time Sports Emmy winner
2010, 2014 NMPA Writer of the Year
College Baseball on Insider

Insider has assembled a team to expand college baseball coverage in 2011. ESPN columnists Ryan McGee, Jeff Bradley and draft expert Keith Law are joined by CollegeSplits.com's Jeff Sackmann and longtime expert Will Kimmey in breaking down the top trends and stories each week.
Week of June 27
Week of June 20
Week of June 13
Week of June 6
Week of May 29
Week of May 22
Week of May 15
Week of May 8
Week of May 1
Week of April 24
MORE COLLEGE SPORTS HEADLINES
MOST SENT STORIES ON ESPN.COM