Commentary
College World Series projection
Virginia and Vanderbilt are heavy favorites to meet in the finals
Updated:
June 17, 2011, 9:35 AM ET
By
Jeff Sackmann
| College Splits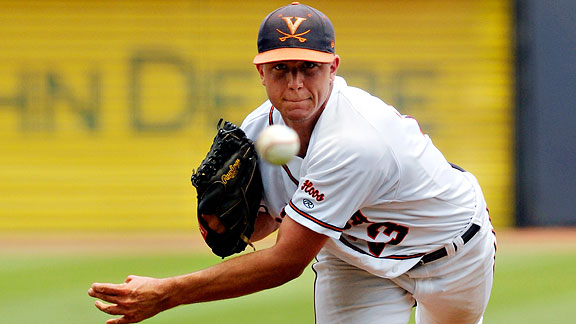 AP Photo/Sara D. DavisThanks to ace Danny Hultzen, Virginia is a heavy favorite against Cal and beyond.
The California Golden Bears have provided a thrilling Cinderella story for this year's baseball postseason. Starting with their run through the loser's bracket of the Houston regional, beating Rice and then mounting a sensational comeback to defeat Baylor, they've captured the hearts of fans nationwide. As one of only two teams in the Omaha field that did not have a national seed (Texas A&M is the other), Cal will continue to fight an uphill battle, starting the World Series with a matchup against the nation's best team and the tournament's best pitcher.
That opponent is the Virginia Cavaliers, and that pitcher is Danny Hultzen, the second overall pick in this year's MLB draft. If the Cavs decide to hold Hultzen back for a possible second-game matchup against South Carolina, they can still throw Will Roberts, owner of an 11-1 record and a perfect game in March. The pitching decision doesn't affect UVa's offensive juggernaut -- 7.1 runs per game, including 29 runs in the three games of the Charlottesville regional -- making the opening Cal-Virginia game, at least on paper, the most lopsided matchup of the tournament. Of course, any fan could tell you that Virginia is heavily favored in that game. So if we project the rest of the College World Series, how does it play out?
V for victory
To see the full projection of the CWS field, become an ESPN Insider today.
Insider
College Baseball on Insider

Insider has assembled a team to expand college baseball coverage in 2011. ESPN columnists Ryan McGee, Jeff Bradley and draft expert Keith Law are joined by CollegeSplits.com's Jeff Sackmann and longtime expert Will Kimmey in breaking down the top trends and stories each week.
Week of June 27
Week of June 20
Week of June 13
Week of June 6
Week of May 29
Week of May 22
Week of May 15
Week of May 8
Week of May 1
Week of April 24
MORE COLLEGE SPORTS HEADLINES
MOST SENT STORIES ON ESPN.COM