Commentary
Ranking the super regionals
There are plenty of great matchups this weekend, but which one is the best?
Updated:
June 10, 2011, 1:18 PM ET
By
Ryan McGee
| ESPN The Magazine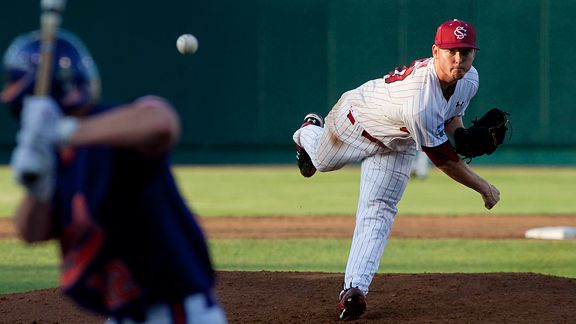 John S Peterson/Icon SMISouth Carolina closer Matt Price will be on the spot against UConn in the super regionals.
Welcome back to Three Hits & Bunt, where we're getting out all of our old College World Series gear and starting to pack for Omaha. Who will be there with me? We'll know by bedtime Monday night. Which of the eight super regionals should you watch the closest? Glad you asked ...
Single: Rating the super-est of the supers
As seems to be the case every June, the super regionals are a mix of classic programs, still-new power programs and a couple of where-did-they-come-from schools. Every matchup is a must-watch because of what's on the line. But if I could get in touch with Scotty and beam myself to see at least part of every three-game series, this is the order in which I would prioritize them. I've graded them on a scale of 1 to 10, based on the overall quality of the matchup as well as the star power.
1. Connecticut at No. 4 South Carolina Head-to-Head Matchup: 10 Star Power: 10
To see the full rankings of this weekend's super regionals, become an ESPN Insider today.
Insider
ESPN The Magazine, NASCAR
ESPN The Magazine senior writer
2-time Sports Emmy winner
2010 NMPA Writer of the Year
SPONSORED HEADLINES
MORE COLLEGE SPORTS HEADLINES
MOST SENT STORIES ON ESPN.COM
College Baseball on Insider

Insider has assembled a team to expand college baseball coverage in 2011. ESPN columnists Ryan McGee, Jeff Bradley and draft expert Keith Law are joined by CollegeSplits.com's Jeff Sackmann and longtime expert Will Kimmey in breaking down the top trends and stories each week.
Week of June 27
Week of June 20
Week of June 13
Week of June 6
Week of May 29
Week of May 22
Week of May 15
Week of May 8
Week of May 1
Week of April 24