Commentary
No more slugfests
The new BBCOR bats are having a major impact on college baseball
Originally Published:
March 29, 2011
By
Jeff Sackmann
| ESPN Insider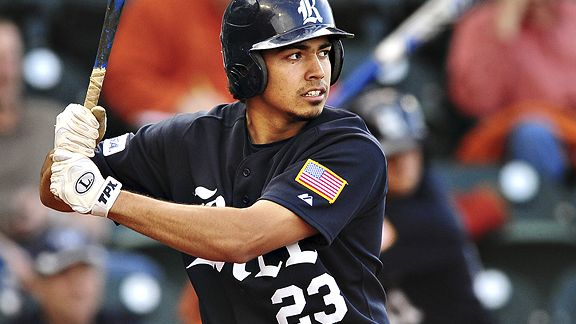 Mark J. Rebilas/US PresswireRice superstar Anthony Rendon has just three homers this season; the new BBCOR bats are part of the reason.
One of the biggest storylines of the 2011 college baseball season has been the switch to less lively "BBCOR" bats. The change in equipment has shifted the balance of power in the direction of pitching and defense. The home run is still a factor, but it's much less likely that any given game is going to be decided by the long ball.
No matter how much you like to watch baseballs fly a long, long way, there's no doubt that the new bats have turned Division I baseball into a more exciting game. Deader bats mean fewer runs, and fewer runs translate into closer games. With nearly 4,000 D-I games already behind us, we can get a pretty good idea of what has changed, and how.
To see read more about how the new bats are affecting the game, and sometimes making contests even longer, you must be an ESPN Insider.
Insider
College Baseball on Insider

Insider has assembled a team to expand college baseball coverage in 2011. ESPN columnists Ryan McGee, Jeff Bradley and draft expert Keith Law are joined by CollegeSplits.com's Jeff Sackmann and longtime expert Will Kimmey in breaking down the top trends and stories each week.
Week of June 27
Week of June 20
Week of June 13
Week of June 6
Week of May 29
Week of May 22
Week of May 15
Week of May 8
Week of May 1
Week of April 24
MORE COLLEGE SPORTS HEADLINES
MOST SENT STORIES ON ESPN.COM