Commentary
The Gamecocks' repeat bid
South Carolina gets a major test on the road to Omaha with a series at Florida this weekend
Originally Published:
March 11, 2011
By
Will Kimmey
| ESPN Insider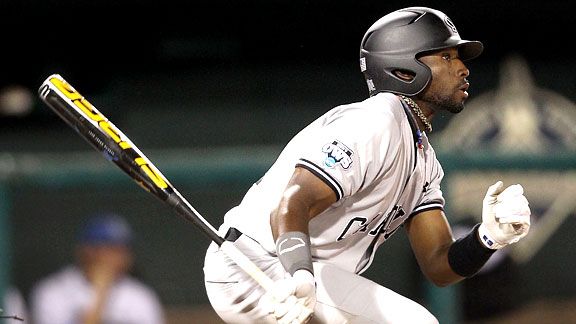 Christian Petersen/Getty ImagesJackie Bradley Jr. is back, and South Carolina has the talent to repeat.
The euphoria started when Whit Merrifield delivered the game-winning RBI with one out in the bottom of the 11th inning back on June 29, a single that clinched the South Carolina's first College World Series title. The Gamecocks spilled onto the field at Rosenblatt Stadium that night, celebrating the victory.
The euphoria carried through the summer, into parades, summer leagues and recruiting trips. It drifted into the fall, as the Gamecocks received honors and applause at a home football game. It spilled into the personal lives of the coaches and players, who received congratulations while walking across campus, shopping for groceries and pumping gas. The warm glow of the championship probably even helped keep them warm through the winter.
"We were celebrated in every venue and avenue in Columbia," coach Ray Tanner said. "But when we started spring practice, we told the players that it was a great experience, and we're going to fly that (championship) flag, but now it's time to move on."
To read more about South Carolina's chances of winning the College World Series again, you must be an ESPN Insider.
Insider
College Baseball on Insider

Insider has assembled a team to expand college baseball coverage in 2011. ESPN columnists Ryan McGee, Jeff Bradley and draft expert Keith Law are joined by CollegeSplits.com's Jeff Sackmann and longtime expert Will Kimmey in breaking down the top trends and stories each week.
Week of June 27
Week of June 20
Week of June 13
Week of June 6
Week of May 29
Week of May 22
Week of May 15
Week of May 8
Week of May 1
Week of April 24
MORE COLLEGE SPORTS HEADLINES
MOST SENT STORIES ON ESPN.COM