Commentary
Rosenblatt Stadium closes its doors
The original home of the College World Series is no longer open for business
Originally Published:
March 18, 2011
By
Ryan McGee
| ESPN Insider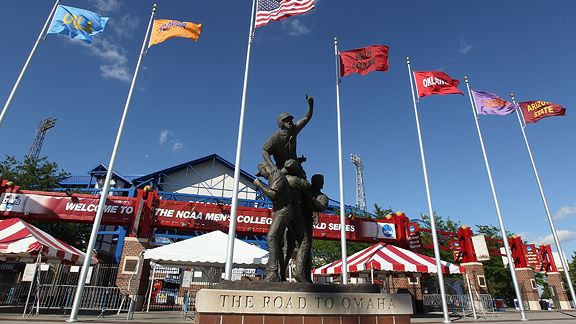 Christian Petersen/Getty ImagesOmaha's Rosenblatt Stadium has seen its final College World Series game.
Welcome back to Three Hits and Bunt, where we're still down in the lab trying to figure out how to un-BBCOR our bats.
Before we round the bases, a quick shoutout to reader Kenny in Coral Gables, who wrote in after my inaugural college baseball blog, catching up with college baseball's top catcher, Bethune-Cookman's Peter O'Brien.
"Ryan, thanks so much for confirming what I had always feared might be true. That my beloved Miami Hurricanes never even gave O'Brien so much as a glance, even though he practically grew up down the street from The House That Ron Fraser Built. Every time he goes yard it's like someone is kicking me in the privates. Can you imagine the damage he would do if he was in the batting order alongside Rony Rodriguez?!"
Two things here, Kenny. One, freshman Shane Rowland isn't exactly chopped liver behind the plate. And two, you might want to be out of town when B-CU rolls into A-Rod Stadium on April 20. Just in case.
Time to take our cuts:
Single: Rosenblatt's long, slow goodbye
As the 2011 college baseball season hits conference play, the long-awaited, long-dreaded change in the sport's final destination has finally arrived.
Two weeks ago the national media barely noticed when The Road To Omaha, the signature sculpture that has stood watch by the gates of Johnny Rosenblatt Stadium since 1999, was pulled from its moorings and sent into storage. On March 3, the sculpture, which weighs 1,500 pounds (the concrete and brick base weighs another five tons), was loaded onto a flatbed truck and driven through downtown Omaha to a storage facility. There it will be refurbished ahead of an April move to its new home, part of the "grand staircase" outside TD Ameritrade Stadium.
The relocation of local artist John Lajba's masterpiece was merely one more stage of what has become a winter of slow deconstruction for Rosenblatt.
To read Ryan McGee's full take on the closing of Rosenblatt Stadium, and get an inside look at a pair of former powers who are bouncing back this season, you must be an ESPN Insider.
Insider
ESPN The Magazine, NASCAR
ESPN The Magazine senior writer
2-time Sports Emmy winner
2010, 2014 NMPA Writer of the Year
College Baseball on Insider

Insider has assembled a team to expand college baseball coverage in 2011. ESPN columnists Ryan McGee, Jeff Bradley and draft expert Keith Law are joined by CollegeSplits.com's Jeff Sackmann and longtime expert Will Kimmey in breaking down the top trends and stories each week.
Week of June 27
Week of June 20
Week of June 13
Week of June 6
Week of May 29
Week of May 22
Week of May 15
Week of May 8
Week of May 1
Week of April 24
MORE COLLEGE SPORTS HEADLINES
MOST SENT STORIES ON ESPN.COM