Commentary
Introducing the nation's best catcher
Peter O'Brien of Bethune-Cookman looks to lead his team to Omaha
Originally Published:
March 4, 2011
By
Ryan McGee
| ESPN The Magazine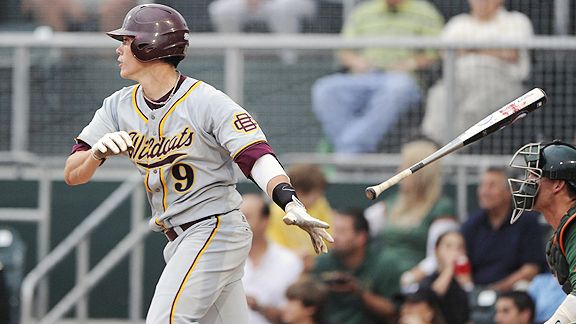 Richard C. Lewis/Icon SMIPeter O'Brien has been earning a lot of recognition so far this season.
Welcome to our first semi-weekly college baseball blog of 2011. No, dedicated college football readers, it's not Three Downs and Punt, but rather Three Hits and Bunt.
First, a quick shout-out to all the USC football fans who were so kind to send in their well wishes after last week's college football blog, in which I declared that Lane Kiffin was now on the hot seat after the new NCAA allegations against him from his time at Tennessee. Maybe you're right. I guess I should have learned my lesson from my first hot seat blog last fall, when I had Butch Davis in the No. 1 seat of heat. NCAA problems just don't seem to be quite as lethal as they once were. At any rate, neither Kiffin nor Davis appears to be in any imminent danger. Yet.
But enough about the oblong sphere. It's time for hardball!
Single: Meet Peter O'Brien
While in Daytona for Speedweeks, I stopped by one of my favorite spots in all the land, Jackie Robinson Ballpark. It didn't take long for the home team to figure out why I was there.
"You're from ESPN The Magazine?" an equipment manager asked.
"Yep."
"Then you're looking for Pete. His locker's over here."
Such is life these days for the Bethune-Cookman Wildcats. Despite 13 MEAC conference championships and 11 NCAA tournament appearances since 1996, B-CU has never received the kind of national media attention that it has here in the earliest stages of the 2011 season.
The reason: Peter O'Brien.
The junior catcher was on everyone's preseason All-America team and is widely projected as the top catcher coming out of college this year, if not overall (Blake Swihart, a Texas commit out of Cleveland High School in Rio Rancho, N.M., looks like his toughest competition for top backstop draftee). He hammered his way to a .386-20-151 season in 2010, then backed it up by leading Team USA's silver medal-winning squad this summer with a team-high four homers and .694 slugging percentage.
Not bad for a kid that no one wanted coming out of high school.
To read more about what makes Bethune-Cookman's Peter O'Brien the best catcher prospect in the country, become an ESPN Insider today.
Insider
ESPN The Magazine, NASCAR
ESPN The Magazine senior writer
2-time Sports Emmy winner
2010, 2014 NMPA Writer of the Year
College Baseball on Insider

Insider has assembled a team to expand college baseball coverage in 2011. ESPN columnists Ryan McGee, Jeff Bradley and draft expert Keith Law are joined by CollegeSplits.com's Jeff Sackmann and longtime expert Will Kimmey in breaking down the top trends and stories each week.
Week of June 27
Week of June 20
Week of June 13
Week of June 6
Week of May 29
Week of May 22
Week of May 15
Week of May 8
Week of May 1
Week of April 24
MORE COLLEGE SPORTS HEADLINES
MOST SENT STORIES ON ESPN.COM