Parker starts fast as Spurs win preseason opener
Originally Published:
October 3, 2006
By
John Hollinger
| ESPN Insider
VILLERBAUNE, France -- So much for
Tony Parker
's finger injury holding him back in the early part of the
San Antonio Spurs
' campaign. One week into training camp, the Western Conference powers showed that Tony's broken digit and much else are right in their world heading into the season. Parker was sensational in leading the Spurs past French club Adecco ASVEL on Thursday night, pumping in 17 of his game-high 26 points in the first quarter as the Spurs routed their ovematched counterparts 115-90 to open their exhibition season.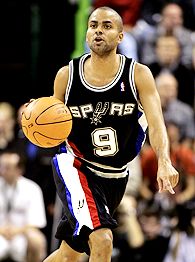 Gregory Shamus/NBAE via Getty ImagesTony Parker felt right at home in France, leading the victorious Spurs with 26 points.
Parker even felt chipper enough to beg Spurs coach Gregg Popovich to put him back in the game in the final minute, as the packed house at the cozy Astroballe chanted "Tony, Tony." Popovich said afterward that he didn't want to put Parker back in because they were already up by 26 points, and because he didn't want to risk injury to his key player in a preseason game. Finally, he relented as the crowd grew louder. "We put him back on the court in the final minute just to say thank you to the crowd," said Popovich. You might be surprised that Parker played so much given the worries over the broken finger that kept him out of the World Championships, but it appears all systems are go for the French speedster. He repeatedly burned defenders on quick drives to the rim and didn't appear at all skittish about taking contact. Another reason he played so much is that the Spurs seemed genuinely worried they might lose the game, playing their starters most of the night. It wasn't until the game was well in hand late in the fourth quarter that we saw the Rich Melzers and
Jared Reiner
s of the world. Not that they needed to fret so much. The Spurs are a tough test for good NBA teams, let alone a second-tier European club like this one, and a week into preseason they appear to be humming on all cylinders. It's not just Parker.
Tim Duncan
showed up for camp in the best shape of his career and scored 19 points in 26 minutes. And maybe it's just the preseason, but it sure seemed as though he had more arc on his foul shots when I saw him in warm-ups (he made 5 of 6 for the game). Overall, the Spurs were genuinely pleased with both the game and the training camp in France. Multiple Spurs officials commented that the facilities were excellent, and of course the noted oenophile Popovich hardly was upset to be spending a week in France. Perhaps the only concern was all the demands on Parker's time from media and sponsors in his native country, but Popovich felt Parker was mature enough to handle it. "From the moment I met Tony when he was 19 he has proven himself to be mature beyond his years," said Popovich. "It doesn't matter what he does off the court, for the community or sponsors or that kind of thing. He handles things like somebody who has been in the league for 10 or 15 years. I've said from day one he's a very special young man." He'll need to be just as mature for the next couple of days. I'm told his itinerary in Paris, where the Spurs head next for an exhibition Sunday against Maccabi Tel Aviv, is even more packed than it was in Lyon. In the meantime, the Spurs can take comfort in the fact that the first week of the 2006-07 campaign has gone as well as they possibly could have expected.
John Hollinger writes for ESPN Insider. To e-mail him, click here.
To continue reading this article you must be an Insider
Insider

MOST SENT STORIES ON ESPN.COM