Is it time for Boozer to go?
Why Chicago might be wise to keep its roster intact for one more season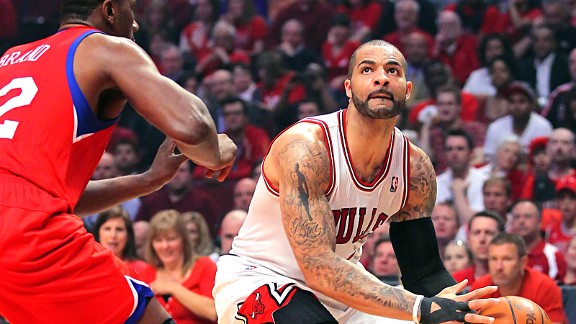 Dennis Wierzbicki/US PresswireCarlos Boozer is still a good player, just not one who warrants the huge salary he is earning.
All through the Chicago Bulls' injury-plagued season, coach Tom Thibodeau used the same phrase over and over again: "We have more than enough to win with." And win they did, finishing with a tie for the league's best record and the top overall seed in the playoffs. Alas, after Thursday's crushing 79-78 loss at the Philadelphia 76ers, the gaudy seed and another Central Division title is all Chicago has to show for its regular-season success.
The Bulls didn't have enough to win with, not with Derrick Rose out, not with Joakim Noah out, not with Carlos Boozer on the bench for the final 16:07 of the game. Rose and Noah are going to be back. Assuming better luck with their health, their best basketball days still lie ahead. That's not the case for Boozer, who wilted when the Bulls needed him most. Boozer made 1 of 11 shots Thursday. When the Bulls' third quarter run coincided with Boozer going to the bench in favor of Taj Gibson, that was the last we saw of him for the 2011-12 season.
To read about the pros and cons of the Bulls using the amnesty clause on Carlos Boozer this offseason, become an Insider today.
Insider
Sports reporter, Kansas City Star, 2002-09
Writer, Baseball, Baseball Prospectus
Co-author, Pro Basketball Prospectus
Member, Baseball Writers Association of America
Member, Professional Basketball Writers Association
2012 NBA Finals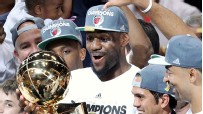 Follow the NBA on ESPN:
Twitter / Facebook / Google+
LATEST CONTENT
FINALS FEATURES
AUDIO/VIDEO
FINALS PAGE
kpelton

Kevin Pelton


Intriguingly, I found another 19-year-old in the CBA who actually rates better than Mudiay: 7-1 Zhou Qi. http://t.co/g2si6wRtTH (In)
3 minutes ago

kpelton

Kevin Pelton


For this week's piece w/@chadfordinsider, I translated Emmanuel Mudiay's Chinese stats to their NBA equivalent: http://t.co/g2si6wRtTH (In)
4 minutes ago

mcten

Dave McMenamin


I wonder where Rasheed Sulaimon and Rashad McCants will be watching Duke-UNC this weekend #nothingtoseehere #selectivepunishment
12 minutes ago

Chris_Broussard

Chris Broussard


I'm leaning in for my wife and twin daughters #LeanInTogether
12 minutes ago

mcten

Dave McMenamin


@GottliebShow Real pro move there, Doug.
14 minutes ago

coachthorpe

david b. thorpe


If Mekel is not good enough to help an NBA team win big games, then I don't know a dang thing about this sport. That's all I have to say.
18 minutes ago

coachthorpe

david b. thorpe


Oh, great job Gal Mekel in his first ever Eurloeague game. 12 (6-10 fg) and 6 assists in 24 mins in a road game against an elite team.
19 minutes ago

coachthorpe

david b. thorpe


one more-Utah, Minny, Sacto, Boston-all could end up being darn good next year. Hope they fix the playoffs and just take top 16.
22 minutes ago

mcten

Dave McMenamin


Might have to stay off Twitter today. Brutal ruling. Just brutal.
23 minutes ago

celtics

Boston Celtics


Brad Stevens on Avery Bradley: "He had a badly sprained left elbow. He hyperextended it." Says Bradley likely won't join Celtics on trip.
25 minutes ago

coachthorpe

david b. thorpe


10. Cavs look so much like Bron's first Miami team, with top scorers taking turns in iso's. Both guys very willing passers, but not ideal o.
26 minutes ago

ESPNForsberg

Chris Forsberg


here's the play where Bradley appears to hurt his elbow while snagged on screen. tells bench on way up court. http://t.co/JWMQToCT0N
26 minutes ago

ESPNForsberg

Chris Forsberg


... https://t.co/Tjgx6ArIGd
27 minutes ago

coachthorpe

david b. thorpe


9. The NCAA tournament nears, enjoy the drama but please recognize this-these players that look so great will struggle next year in the NBA
27 minutes ago

coachthorpe

david b. thorpe


Only 2 games but still so great to see Denver play inspired and fast. That 57 win team should have been the start of an incredible run.
28 minutes ago

coachthorpe

david b. thorpe


7. Kudos to Larry Sanders. Get your mind and body right, young man. Nothing is as important as that. And the NBA is not a place to do that.
30 minutes ago

coachthorpe

david b. thorpe


6. What Westbrook is doing is incredible to watch. Fair to wonder if we will ever see OKC play as an elite team again for a season.
32 minutes ago

coachthorpe

david b. thorpe


5. Credit Thibs for helping his team still play with inspiration despite a taxing season (again) that has his guys not as in love w him.
33 minutes ago

coachthorpe

david b. thorpe


4. I was so disappointed seeing how immature Rudy and DeMarcus were in San Antonio the other night. Time to grow up boys. #mansgame
35 minutes ago

coachthorpe

david b. thorpe


3.Beginning with the miracle comeback win over Sacramento and now adding the fortunate one over Houston(thanks to that no call)-Griz believe
36 minutes ago

MOST SENT STORIES ON ESPN.COM