Who's better, Paul or Rose?
Evaluating the league's top two point guards to determine which is the better player
Originally Published:
February 22, 2012
By
Chris Palmer
| ESPN The Magazine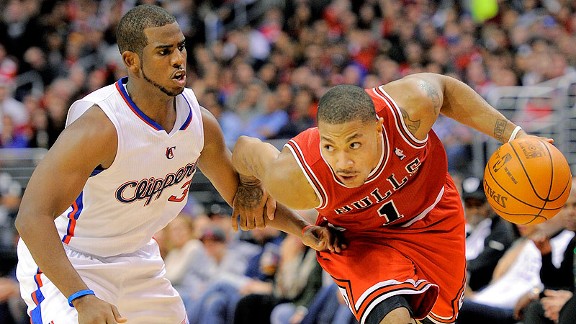 AP Photo/Mark J. TerrillWho's the best point guard in the NBA? We've got the answer.
Chris Paul and Derrick Rose are undoubtedly the game's top two point guards. Their styles are a study in contrast. Each player uses a different set of finely honed skills to overwhelm and bewilder opponents.
Their matchups are among the most intriguing individual faceoffs in the league, and on Sunday they'll start opposite each other in the All-Star Game. But before they do that, we'll break down these talented lead guards, one category at a time, to determine which one is the better player.
Ballhandling
Paul is simply as flawless a ballhandler as the league has seen. He has stripped flash from his game and uses only the dribble to gain an advantage. He can stop on a dime with a pull-back crossover on the elbow or freeze a big man with an in-and-out dribble with either hand.
But one of Paul's best weapons is his half dribble -- faking a spin move -- which defenders are forced to play honest. Many point guards consider it one of the trickiest moves to defend. "It's so tough because he does it so fast," Denver Nuggets point guard Ty Lawson says. "You have to assume he's going to spin." In traffic Paul keeps the ball low and close to his body, which makes it very hard to strip, as evident in a career-low 2.2 turnovers per game.
Rose's handle doesn't quite have the fluidity of Paul's but is nonetheless airtight. It's tough to find a quicker crossover than Rose's, which he can snap left-to-right and back in a flash, making it extremely difficult to recover. It's this ability to cover ground laterally that's become a crucial weapon in creating shots for himself and others. Rose can slalom to the rim quicker than most guys can get there in a straight line, zipping through collapsing holes in the nick of time. He's also got a terrific step-back move in which he keeps his dribble then rockets toward the rim after the defender commits his momentum forward.
Scores (out of 10): Paul 10, Rose 10
To read more about how Chris Paul compares to Derrick Rose, become an ESPN Insider today.
Insider
ESPN the Magazine
Chris Palmer has been a frequent contributor to ESPN The Magazine and ESPN.com's NBA coverage since 1999.
EDITORS' PICKS
Fitting in is Jeremy Lin's biggest challenge now.
Torre »

Another surgery will keep KD out the rest of the season.
J.A. Adande »

The Warriors routed the Griz in a meeting of West's top 2.
Wallace »

MOST SENT STORIES ON ESPN.COM