Commentary
Diagnosis: Blow up the Celtics
Ainge should break up the Big Three, but trade partners and assets are scant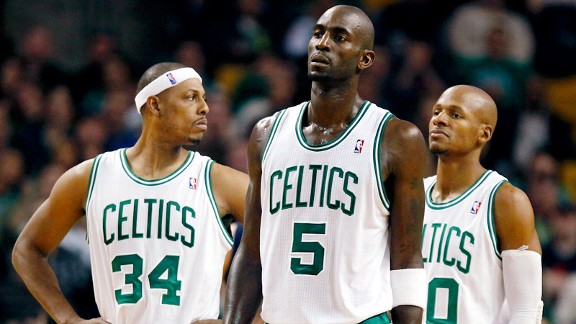 AP Photo/Michael DwyerBreak up the Big Three? Sure, but who wants them and what would the Celtics get in return?
Break up the Celtics! It's a reprise that hasn't quite reached the status of "The redcoats are coming" in old New England, but it's a cry that has gained sudden resonance for fans of one of the NBA's most hallowed franchises.
Boston president of basketball operations Danny Ainge started the rumor mill churning last week with comments made to the Boston Globe, saying that he wants to avoid a repeat of the long dark age of Celtics basketball that enveloped the franchise after the end of the Bird-McHale-Parish era in the early 1990s. Really, Ainge merely stated the obvious: If this Celtics team can't win another title as constituted, he's ready to move core parts in an effort to get younger and more sustainable. As Ainge himself pointed out, that's easier said than done.
Symptoms
Through Sunday, the Celtics ranked 19th in offensive efficiency this season, which is certainly no cause for celebration. However, Boston was 17th last season, so the struggles on offense are nothing new and wouldn't be noticed so much if not for the red flags that have sprung up at the other end of the court. Stingy defense has been the hallmark of this version of the Celtics ever since the Kevin Garnett-Paul Pierce-Ray Allen core was established before the 2007-08 season. In the four full campaigns since, Boston has ranked first, second, fifth and second, respectively, in defensive efficiency. Even last season, when the granite statue known as Shaquille O'Neal played center and rim protector Kendrick Perkins was injured and then traded, the Celtics still rated as an elite defensive unit.
To read the full article on whether the Celtics should begin rebuilding, become an ESPN Insider today.
Insider
Sports reporter, Kansas City Star, 2002-09
Writer, Baseball, Baseball Prospectus
Co-author, Pro Basketball Prospectus
Member, Baseball Writers Association of America
Member, Professional Basketball Writers Association
SPONSORED HEADLINES
MORE NBA HEADLINES
MOST SENT STORIES ON ESPN.COM
EDITORS' PICKS
Best team of the first month? Best player?
5-on-5 »

Russell Westbrook will return to action Friday night.
Story »

Derrick Rose scored 21 points in his return to the lineup to the lead the Bulls past the Celtics.