Griffin's improvement key to Clips
The star forward needs to step up on defense, boards to spur any title run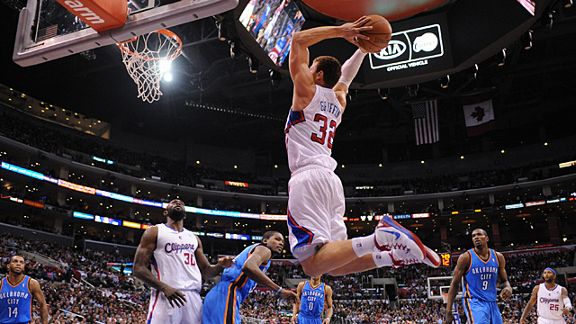 Noah Graham/NBAE via Getty ImagesThe Clippers need more rebounds and better defensive play from the high-flying Blake Griffin.
There has been a debate in recent seasons about whether Clippers pitchman extraordinaire Blake Griffin has improved during his NBA career. In fact, Shaquille O'Neal and Charles Barkley were discussing this very topic during the Clippers-Warriors game Thursday. The debate lines up like this: Some, such as O'Neal, think Griffin hasn't evolved beyond being a dunk artist. Others believe Griffin has been much more than that all along.
You don't have to work very hard to demonstrate that Griffin is more than a guy who does nothing but hurl the ball through the rim a few times per game. However, while the nothing-but-dunk arguers are a little over the top, there is a point to be made here. As good as Griffin is, and as much as he does, he could be better. To take that statement one step further: The title hopes of the Los Angeles Clippers depend upon Griffin evolving his game to a higher level.
To read Bradford Doolittle's complete article on why the Clippers title hopes depend on whether Blake Griffin can improve his game, sign up to become an ESPN Insider.
Insider
Sports reporter, Kansas City Star, 2002-09
Writer, Baseball, Baseball Prospectus
Co-author, Pro Basketball Prospectus
Member, Baseball Writers Association of America
Member, Professional Basketball Writers Association
EDITORS' PICKS
Fitting in is Jeremy Lin's biggest challenge now.
Torre »

Another surgery will keep KD out the rest of the season.
J.A. Adande »

The Warriors routed the Griz in a meeting of West's top 2.
Wallace »

MOST SENT STORIES ON ESPN.COM