NBA's all-time 'LeBron-Stoppers'
Dennis Rodman tops rank of defenders most capable of containing James
Updated:
October 16, 2013, 9:17 AM ET
By
Amin Elhassan
| ESPN Insider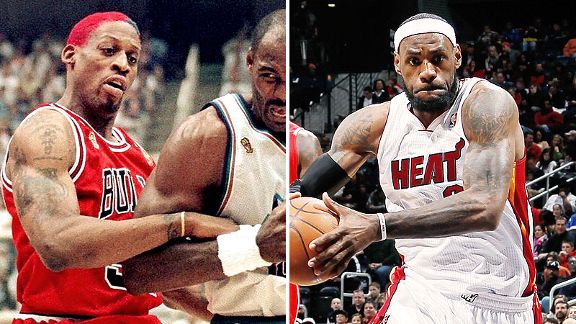 Getty ImagesHow would defensive guru Dennis Rodman fare if tasked with guarding LeBron James?
LeBron James. Just mentioning his name strikes fear in would-be defenders. He's got the physical dimensions of Karl Malone with the explosiveness of Charles Barkley and the nimbleness of Allen Iverson. He evokes images of a runaway freight train on the way to the rim, where last season he led the league in field goal percentage and points scored. Once a weakness, he's improved his jump shot to the tune of 59 percent from the top of the key and 41 percent from beyond the arc. And let's not even start talking about when he breaks the rolling hook out from the post.
James may not have the diversified arsenal of "pure" scorers like Kevin Durant and Carmelo Anthony, but he brings a cold-hearted efficiency that drives to the heart of basketball's analytics debate: Why do we care about aesthetics when the bottom line is what counts?
As Shaquille O'Neal was fond of boasting, why worry about a midrange jumper when you shoot "60+% LIFETIME" (he'd often follow that up with "Google me"). And similar to how O'Neal physically outmatched his opponents as the most dominant offensive force in the game for much of his career, James offers the same conundrum for opposing defenses.
Spurred by Michael Jordan's recent comments, there has been a lot of debate about who would win a hypothetical one-on-one game between Jordan and James. Since the game of basketball is not an individual showdown like a batter facing a pitcher in baseball, a more compelling discussion would be who you would want guarding James within a team defensive concept.
Here are the top five players from NBA history with the best chance of stopping LeBron:
---
1. Dennis Rodman | PF | 6-foot-8, 220 pounds
NBA career: 1986-2000 (Pistons, Spurs, Bulls, Lakers, Mavericks)
NBA defensive accolades: two-time Defensive Player of the Year; seven-time All-Defensive First Team; All-Defensive Second Team
To read the complete ranking of the top five players in NBA history most capable of defending LeBron James, sign up to become an ESPN Insider.
Insider
Video coordinator, college scout, Phoenix Suns
Assistant director of basketball operations, Phoenix Suns
MBA from Arizona State University
EDITORS' PICKS
Without KD, the Thunder have had trouble winning on the road. Against the Suns, things changed.
Royce Young »

Marred by injuries, the Rockets continue to find ways to win. Having James Harden doesn't hurt, either.
Watkins »

Who could land Justise Winslow and Jahlil Okafor? Try our lotto mock draft.
Play »

MOST SENT STORIES ON ESPN.COM