The NBA's part-time superstars
In the small minutes they get, these guys put up big numbers, performances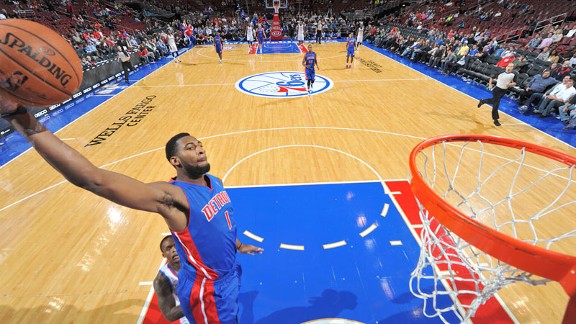 Jesse D. Garrabrant/Getty ImagesWhat will happen when Andre Drummond plays starter minutes?
The subset of basketball fans who employ advanced metrics to further their understanding and enjoyment of the game has grown exponentially over the last decade. Actually, that's an incredible understatement. Through the pioneering efforts of Dean Oliver, John Hollinger, Roland Beech and others, people like me now have jobs and write books exploring the game through the prism of analytics, and all of the smart teams employ full-time analysts in their basketball operations department.
Hollinger, of course, is not only on the inside these days as an executive with the Memphis Grizzlies, but he's probably the most familiar name among those in our little niche because of his years as a columnist here at ESPN. Hollinger's most basic tenet of basketball analysis – the first tidbit of insight those curious about the subject usually encounter – was summed up in the first paragraph of his introduction to the 2004-05 edition of his Pro Basketball Forecast series:
"

It's a pretty simple concept, but one that has largely escaped most NBA front offices: The idea that what a player does on a per-minute basis is far more important than his per-game stats.

"

-- John Hollinger
"It's a pretty simple concept, but one that has largely escaped most NBA front offices: The idea that what a player does on a per-minute basis is far more important than his per-game stats."
That's no longer a foreign concept among the league's front offices, but it's as true as ever. The reason is simple: All things being equal, a player's per-minute statistics remain largely stable whether his playing time is increased or decreased. There are exceptions, of course. A player might put up sparkling numbers in a reserve role but struggle when he faces a higher caliber of competition as starter; however, even then, the germ of his performance can usually still be traced back to those per-minute numbers that were dismissed because of small sample size, though some samples are indeed too miniscule to be taken seriously.
Whether you use per-36-minute stats, per-40, per-48 or per-1000 – it doesn't make a difference. It's still just an expression of per-minute performance. What remains clear is that for players who played less than a full-time role, an outstanding showing on a per-minute basis is often reason enough to justify giving that player more court time.
Sometimes it's not a good idea to throw additional minutes at players with gaudy per-minute numbers. Some might be streak-shooting, instant-offense types who will burn through possessions if used in too large of a role. Charlotte's Ben Gordon, Cleveland's C.J. Miles and Detroit's Will Bynum are among those who fall into that category. Others have defensive limitations and thus have to be deployed strategically, such as Brooklyn's Andray Blatche, Golden State's Marreese Speights and Sacramento's Jimmer Fredette. All of these players are valuable in their own way, but part-time duty is just fine for them.
With that understood, here's a look at five players whose per-minute numbers scream out for more responsibility.
---
Copeland
The defensively potent Pacers needed to upgrade their offense this summer, especially because no one really knows what to expect from Danny Granger after a season of knee woes. Indiana fans might not have realized their club did just that by snagging Copeland off the restricted free-agent market because he averaged just 8.7 points per game for the Knicks in 2012-13.
To read Bradford Doolittle's complete list of the NBA's top small-sample stars, become an ESPN Insider today.
Insider
Sports reporter, Kansas City Star, 2002-09
Writer, Baseball, Baseball Prospectus
Co-author, Pro Basketball Prospectus
Member, Baseball Writers Association of America
Member, Professional Basketball Writers Association
EDITORS' PICKS
Coming off four straight triple-doubles, what will Russell Westbrook do next?
NBA Now

Who's the NBA MVP? Our experts dissect a wide-open race.
5-on-5 »

PG a bad fit?


MOST SENT STORIES ON ESPN.COM