Is Doc Rivers worth it?
Perhaps not him alone, but if he clinches Chris Paul, he sure is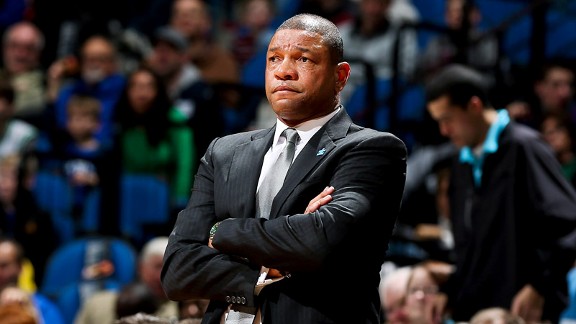 David Sherman/NBAE/Getty ImagesDoc Rivers is headed to Los Angeles, but is he worth the price? It depends on Chris Paul.
The early offseason has been remarkable in the NBA coaching ranks, and not in a good way.
Owners, fans and even many front-office officials are anxious to win. We get it. However, all you have to do is look at the teams that played for the 2012-13 NBA championship to realize that there are still two aspects of an operation that are undervalued by those who write the paychecks in the league: continuity and coaching.
At least 13 teams will be led by new coaches next season, a number that grew by one with the startling news that longtime Boston Celtics coach Doc Rivers had been "traded" to the Los Angeles Clippers.
Was Rivers worthy of such a bold move by the Clippers? Well, head coaches are typically hired for one of two reasons. Either they've been a head coach in the past and had some degree of success, or they are a key assistant on a currently successful team. Rivers obviously falls in the former category. Once in a while, you'll have an in-house assistant promoted, but that doesn't typically jibe with a team's fever for change.
To read more of whether Bradford Doolittle believes Doc Rivers is worth the price the L.A. Clippers paid for him, become an Insider today.
Insider
Sports reporter, Kansas City Star, 2002-09
Writer, Baseball, Baseball Prospectus
Co-author, Pro Basketball Prospectus
Member, Baseball Writers Association of America
Member, Professional Basketball Writers Association
EDITORS' PICKS
The Warriors routed the Griz in a meeting of West's top 2.
Highlights

Another surgery will keep KD out the rest of the season.
J.A. Adande »

Who are the best -- and worst -- owners in the league?
Rankings »
Adidas Men's Los Angeles Clippers Blake Griffin #32 Black T-shirt Shop »

MOST SENT STORIES ON ESPN.COM