Mamba out, James Harden in
Projecting 2015 All-Star starters, which doesn't include Kobe, KG or Duncan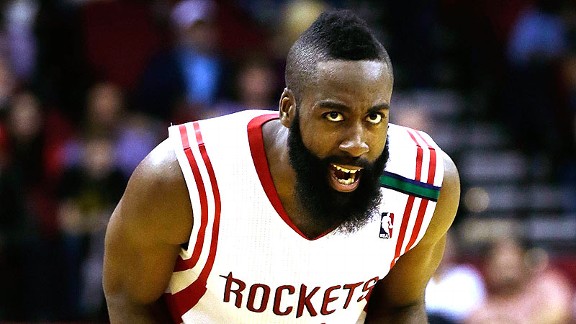 Scott Halleran/Getty ImagesBy 2015, James Harden projects to be the starting SG for the West, not Kobe Bryant.
Monday marked the end of this season's NBA All-Star balloting. We won't find out until Thursday's announcement which players topped this year's voting, but we have a pretty good idea about the names we're going to see. Chances are, they will be very similar to the names we saw last season, and many seasons before that.
According to the most recent in-progress voting, there were a few probable starters who have plenty of mileage under their collective belt, or are even downright long in the tooth. We've been seeing names such as Kevin Garnett, LeBron James, Carmelo Anthony, Dwyane Wade, Tim Duncan and Kobe Bryant in the All-Star Game seemingly forever. In fact, Bryant, if he retains his place as the leading vote-getter among Western Conference guards, will start his record 14th All-Star Game. Garnett and James are also high up on that list, as is Duncan, who has some ground to make up to catch Blake Griffin in the voting.
Winning a starting nod in the All-Star Game is always a product of both performance and popularity, and because of the latter, brand-name players will tend to get voted in past their expiration date as elite performers. Wade, who ranks 28th in WARP so far this season, and Garnett, who is 72nd, certainly seem to be benefiting from this phenomenon. And what does it matter? It's an All-Star Game, and the fans should get to see the players they want to see.
That said, there is an awful lot of young talent in the league these days. Through Monday's games, 23 of the top 50 players in the WARP rankings are under 27 years of age, or nearly half. That includes five of the top 10: Kevin Durant, Russell Westbrook, James Harden, Stephen Curry and Nicolas Batum. Of those, only Durant is likely to start in Houston on Feb. 17, and he's likely to be a fixture in All-Star starting lineups for the next decade. Who will join him? With the All-Star window shrinking rapidly for the likes of Bryant, Garnett, Duncan, Paul Pierce, Steve Nash, Ray Allen et al., let's flash ahead a couple of seasons and hazard a guess at who might make up the All-Star lineups in February 2015, based purely on numbers. (The site has not been announced; next year's game will be in New Orleans.)
To read more of what the 2015 All-Star teams might look like without Kobe, KG or Duncan, become an Insider today.
Insider
Sports reporter, Kansas City Star, 2002-09
Writer, Baseball, Baseball Prospectus
Co-author, Pro Basketball Prospectus
Member, Baseball Writers Association of America
Member, Professional Basketball Writers Association
EDITORS' PICKS
The Warriors routed the Griz in a meeting of West's top 2.
Wallace »

Another surgery will keep KD out the rest of the season.
J.A. Adande »

Who are the best -- and worst -- owners in the league?
Rankings »

MOST SENT STORIES ON ESPN.COM