Commentary
Chemical persuasion
Why are some NBA teams greater than the sum of their parts?
Originally Published:
November 15, 2012
By
Peter Keating
| ESPN The Magazine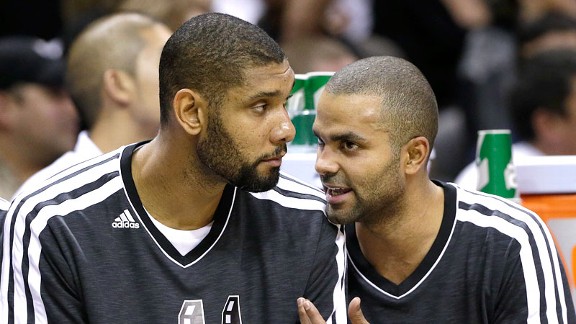 AP Photo/Eric GayThe Spurs aren't at the top of any Q ratings, but their chemistry is generating buzz with statheads.
THE LAKERS, HEAT, Thunder, even the Nets -- there's a long list of NBA teams that gathered more buzz this offseason than the Spurs, who led the league in W's in 2011-12 but topped no one's Q rating. And yet, San Antonio generates huge excitement among statheads. Why? Well, let's look back to a moment in Game 2 of the Western Conference finals. With 9:40 left in the third quarter, Tony Parker came around the top of the key and found Kawhi Leonard in the left corner. Leonard drove along the baseline, then pinpointed a bounce pass through two Oklahoma City defenders to Boris Diaw. Diaw faked a move toward the basket and pushed a no-look pass to Danny Green, set free in the right corner by a Tim Duncan pick. Green released, and drained a bomb. Beautiful.
To learn the secret of chemistry in the NBA, and how it affects offensive efficiency, you must be an ESPN Insider.
Insider
Peter Keating is a senior writer at ESPN The Magazine, where he covers investigative and statistical subjects. He started writing "The Biz," a column looking at sports business from the fan's point of view, in 1999. He also coordinates the Magazine's annual "Ultimate Standings" project, which ranks all pro franchises according to how much they give back to fans. His work on concussions in football has earned awards from the Deadline Club, the New York Press Club and the Center for the Study of Sport in Society.
ESPN The Magazine: November 26, 2012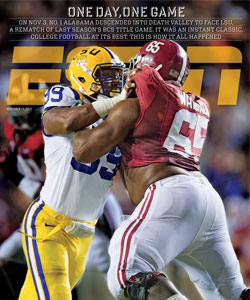 ONE DAY ONE GAME

BEHIND THE SCENES AT TIGER STADIUM

COLUMNS

MORE FROM THE NBA PREVIEW ISSUE

MOST SENT STORIES ON ESPN.COM