NBA's top five 'glue' players
Every team needs a 'glue' guy who keeps his squad inspired and together
Originally Published:
October 31, 2012
By
Chris Palmer
| ESPN the Magazine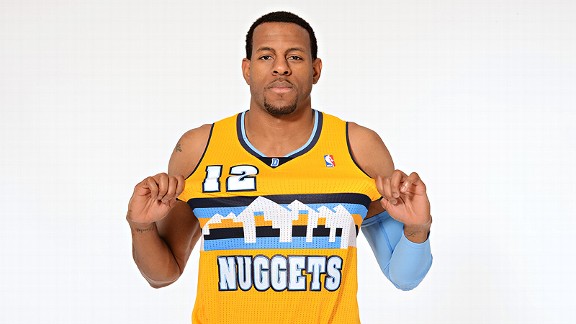 Garrett W. Ellwood/NBAE/Getty ImagesWhether in Philly or Denver, Andre Iguodala is the guy, or glue, who keeps his team together.
When the Oklahoma City Thunder traded James Harden to the Houston Rockets, few disagreed that Oklahoma City's championship hopes took a tumble. The versatile fourth-year combination guard was an integral piece of Oklahoma City's young core and a huge reason they were expected to be perennial contenders.
Harden's 19.1 points on 11.6 shots per 36 minutes was the model of efficiency and will be hard to replace.
But Harden's true worth went far beyond efficiently filling the box score. He served as the stabilizing force on an extravagantly talented team that, despite its bright future, seemed to have the potential to spin out of control because of friction between its young stars Kevin Durant and Russell Westbrook.
What's even more impressive about Harden's temperament and the calming effect he seemed to have on the Thunder is that it came from a 22-year-old. Players with Harden's ability at that age are usually wrestling with the burden of outsized expectations and overly concerned with where their shots are coming from. But it's as if Harden somehow skipped the learning curve that comes with being a burgeoning NBA talent and simply assumed the role of an experienced veteran.
These are the glue guys. They accept any role, do the dirty work, have outstanding basketball instincts and promote team chemistry.
Whether accepting a role off the bench or getting his numbers without disrupting Durant and Westbrook's production, Harden's unselfishness was vital to Oklahoma City's team chemistry. Players like Harden are invaluable to the overall makeup of a successful NBA team. The pieces of a championship puzzle don't fit together properly unless unsung role players can lock them into place.
These are the glue guys. They accept any role, do the dirty work, have outstanding basketball instincts and promote team chemistry. In some respects they're as rare as franchise cornerstones in that they posses both the skill to put a team over the top and the willingness to sacrifice their own personal agenda for the betterment of the team.
Harden's move to Houston will change his role on the floor, but the steadiness and team-first approach will remain. In other words, Harden will positively affect the Rockets' chemistry, but his workload will just be a little heavier.
Every team needs a glue guy. Here are four others who help keep things together:
To read more of Chris Palmer's top five "glue" guys, become an Insider today.
Insider
ESPN the Magazine
Chris Palmer has been a frequent contributor to ESPN The Magazine and ESPN.com's NBA coverage since 1999.
EDITORS' PICKS
Which NBA team will land Kentucky's Karl-Anthony Towns? Take a spin through the Lottery Mock Draft.
Lotto Mock Draft »

In today's NBA, is a team doomed without a star point guard?
Column

With the playoffs looming, who will take center stage in June? The numbers favor a compelling matchup.
Ben Alamar »

MOST SENT STORIES ON ESPN.COM