Will OKC fall short again?
Mythbusting: Out West, the Thunder could see offense hurt in playoffs
Updated:
April 24, 2012, 11:20 AM ET
By
Austin Link
| TeamRankings.com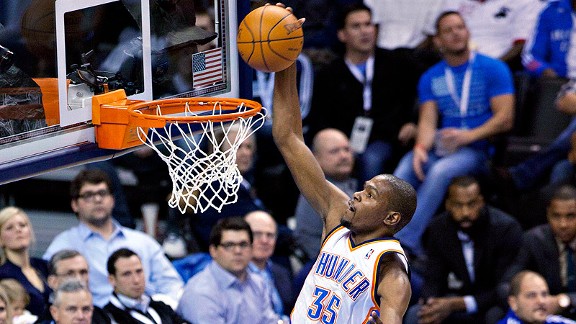 Richard Rowe/US PresswireKevin Durant & Co. can score, but they still might fall short of the championship.
Last year before the NBA playoffs TeamRankings.com developed a model for predicting teams that were more likely to overachieve or underachieve in the playoffs. Based on historical data, we pointed out teams such as the Dallas Mavericks, Memphis Grizzlies and Orlando Magic (oops) as teams likely to fare better than expected. Hey, two out of three ain't bad, especially given that Dallas was on our list.
With some updated data our projections this year rely on five primary factors: age, offensive efficiency, pace, offensive rebounding and center's performance.
Many myths about playoff performance are indirectly addressed by this analysis. It turns out recent performance during the regular season has no huge impact. Neither do regular-season results against other playoff teams. Pace actually goes against conventional wisdom, as teams that play faster tend to be more successful despite the slower rate of playoff play.
Some popular theories are confirmed as well. Older and more experienced teams do play well in the postseason. Offensive rating has a negative effect, which means that defensive-oriented teams (like Memphis) maintain their level of play in the playoffs better than offensive-oriented teams (like Oklahoma City). Defense really does help win championships -- in the NBA, at least.
Overall, these playoff-specific data factors tend to make just a one- or two-point difference in a team's performance level, still often not enough for an underdog to overcome the elite squads. In other words, this analysis doesn't completely replace a projection based on our season power ratings, but rather serves as a well-researched situational adjustment. In an evenly matched series, though, outperforming season-based expectations by a point or two could certainly change the final outcome of a series.
Here's a look at some Western Conference teams that might be significantly affected by these factors.
1. Age and Marcin Gortat make the Phoenix Suns a potential giant killer
To continue reading this article you must be an Insider
Insider
SPONSORED HEADLINES
MORE NBA HEADLINES
MOST SENT STORIES ON ESPN.COM
EDITORS' PICKS
Russell Westbrook had a big return game.
NBA Now

Best team of the first month? Best player?
5-on-5 »

Derrick Rose scored 21 points in his return to the lineup to the lead the Bulls past the Celtics.