Commentary
Free for all
Even the worst free throw shooters can start making their shots count
Updated:
August 13, 2012, 8:11 PM ET
By
Peter Keating
| ESPN The Magazine
THE MOST MADDENING CHOKE in all of sports is surely the missed free throw. Batters who strike out usually face pitchers who can throw 90 mph; a receiver who flubs a catch often has a defensive back draped all over him. But to make a free throw, you need only to sink a shot you've made 27 kajillion times before, with no opponent in your face. Yet some players continue to agonize fans with their charity-stripe clangs.
For full access to this article, become an ESPN Insider today!
Insider
Peter Keating is a senior writer at ESPN The Magazine, where he covers investigative and statistical subjects. He started writing "The Biz," a column looking at sports business from the fan's point of view, in 1999. He also coordinates the Magazine's annual "Ultimate Standings" project, which ranks all pro franchises according to how much they give back to fans. His work on concussions in football has earned awards from the Deadline Club, the New York Press Club and the Center for the Study of Sport in Society.
ESPN The Magazine: March 19, 2012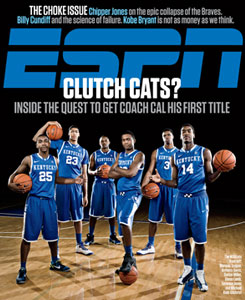 FEATURES IN "THE CHOKE ISSUE"

COLUMNS

MORE FROM THE ISSUE

MOST SENT STORIES ON ESPN.COM