Is Chris Bosh a Hall of Famer?
Miami big man should consider HOF when considering free agency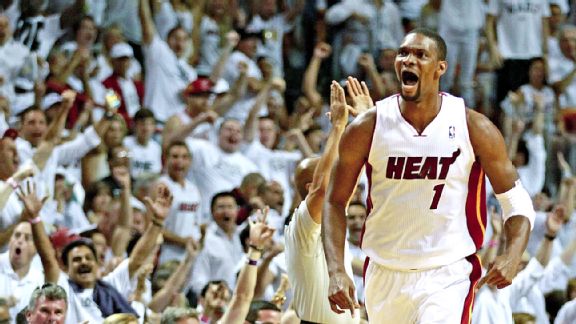 Charles Trainor Jr/Miami Herald/MCT via Getty ImagesHow will the league remember Chris Bosh's role with the Miami Heat?
Legacy: The word is all but compulsory when writing about this year's NBA Finals. It's a soft subject to be sure, yet inescapable when discussing the matchup between the San Antonio Spurs and Miami Heat. Last week, we touched on the compelling historical context of these Finals, and over the course of two terrific, dramatic games, the magnitude of the rivalry has only been amplified. Still, while the matchup is quickly evolving into a clash for all time, there isn't as much on the line for the majority of the individuals involved.
As a group, Miami has a chance to three-peat -- a feat only three franchises (Los Angeles Lakers, 2000-02; Chicago Bulls,1991-93, 1996-98; Boston Celtics, 1959-1966) have ever accomplished. Still, win or lose, we're not going to look at LeBron James, Tim Duncan, Gregg Popovich, Dwyane Wade, Manu Ginobili, Pat Riley, Erik Spoelstra, Ray Allen or Tony Parker much differently a decade from now, if at all. Their legacies are secure. But if you're a close reader, you might notice a name missing from the list of headliners. Conspicuous by his absence is Chris Bosh, who may be the most fascinating figure in this series.
To read more about how the HOF could influence Chris Bosh's free agency moves, you must be an ESPN Insider.
Insider
Sports reporter, Kansas City Star, 2002-09
Writer, Baseball, Baseball Prospectus
Co-author, Pro Basketball Prospectus
Member, Baseball Writers Association of America
Member, Professional Basketball Writers Association
NBA FINALS ON ESPN.COM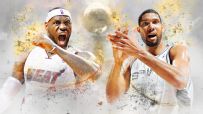 Follow the playoffs on ESPN:
Twitter | Facebook | G+
MORE CONTENT
EDITORS' PICKS
D12's back for the Rockets, backing the Beard.
Watkins »

Why Durant is smart to go for surgery over heroism.
Adande »

Fitting in is Jeremy Lin's biggest challenge now.
Torre »

MOST SENT STORIES ON ESPN.COM