Is there a Big Four of NBA teams?
And how do the other possible contenders catch up to them?
Updated:
January 22, 2014, 12:58 AM ET
By
Tom Haberstroh
| ESPN Insider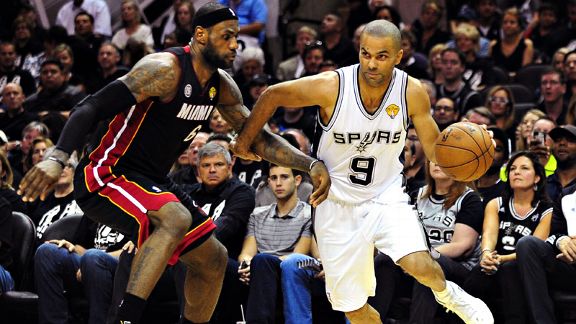 Frederic J. Brown/Getty Images.
Call it the Big Four.
In the latest survey of predictions in the fresh-out-of-the-oven Winter Forecast, which is being rolled out this week, a clear trend has risen to the surface. After we asked more than 50 panelists to pick their most likely NBA champions, a tier of four teams overwhelmingly popped up more than the rest (in alphabetical order):
The Indiana Pacers, Miami Heat, Oklahoma City Thunder and San Antonio Spurs.
In our eyes, this power quartet have separated themselves from the rest of the pack even though the standings say otherwise. The Portland Trail Blazers are tied with the Thunder in the win-loss column, but our group isn't sold on their title contention status. Same goes for the Los Angeles Clippers, Houston Rockets, Golden State Warriors and (gasp!) the rest of the Eastern Conference. Full results will be published on Friday, in case you are wondering.
So what's so special about the Pacers, Heat, Thunder and Spurs? This isn't earth-shattering news, but they've been successful lately. Head over to the standings and you'll see that they hold four of the top five W-L records in the NBA, with the Blazers trying to stay in the championship-contention picture.
But this is a key thing: We've already seen the Big Four contend -- unlike the Blazers. The Heat are two-time defending champs. The Spurs came within seconds of grasping the Larry O'Brien Trophy last season. The Thunder reached the NBA Finals in 2012, and the Pacers came within a win of reaching the Finals last season. In our minds, seeing is believing.
To read more of Tom Haberstroh's column on the NBA's "Big 4" teams, become an Insider today.
Insider
ESPN.com NBA analyst since 2010
ESPN.com Insider researcher in 2009
Developer of NBA DRAFT Initiative database
EDITORS' PICKS
Follow the action

Russ being Russ

DeMar nets 42

MOST SENT STORIES ON ESPN.COM