NBA's top 10 SGs for 2013-14
Houston's Harden tops midseason shooting guard rank based on TrueWARP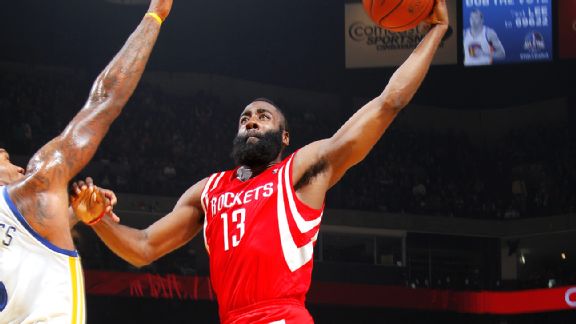 Rocky Widner/NBAE/Getty ImagesJames Harden has been the NBA's best SG this season, according to TrueWARP.
Last summer, when NBA teams were putting the finishing touches on their 2013-14 rosters, I ranked the league's players by position. Those numbers were based on forecasts for the season now nearing its halfway point, and were generated by ATH, my projection system based on aging curves, athletic indicators and player trait matching. One of the themes of the series was how quickly things change in sports, and sure enough, much has been altered over the past 5½ months.
This week, we'll be running an in-season update of the rankings. The summer shooting guard rankings can be found here. Each player's "TrueWARP" calculation -- a blend of a player's preseason baseline forecast and his 2013-14 results -- is noted, along with their 2013-14 WARP and their league-wide rank in WARP for the season to date.
Because we're extrapolating from a half-season of real results, the methodology was a little bit different from our forecast-based summer rankings. See the explainer at the end of the article for how these rankings were derived.
---
Harden
TrueWARP: 14.4 | 2013-14 WARP: 4.7 | Overall WARP rank: 13
To read all of Bradford Doolittle's top 10 shooting guards thus far in the 2013-14 season, become an Insider today.
Insider
Sports reporter, Kansas City Star, 2002-09
Writer, Baseball, Baseball Prospectus
Co-author, Pro Basketball Prospectus
Member, Baseball Writers Association of America
Member, Professional Basketball Writers Association
EDITORS' PICKS
Russ being Russ

Kawhi's the key

DeMar nets 42

MOST SENT STORIES ON ESPN.COM