Kobe's triumphant return?
Examining whether Bryant can play in November, what to expect on the court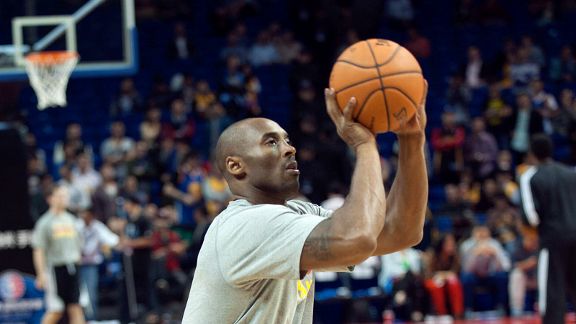 Danny La/USA TODAY SportsKobe Bryant says he could be playing in games this month. Is that likely?
The Achilles tendon is the largest and strongest tendon in the human body. It connects the calf muscles to the heel bone and allows an athlete to explode off of his/her leg when running, jumping and cutting. In short, it is one of the most essential tissues for a basketball player.
So one might understand why things looked bleak when Kobe Bryant suffered a ruptured Achilles tendon in early April. NBA Hall of Famers Dominique Wilkins and Isiah Thomas were never the same after suffering torn Achilles tendons, and this prospect is very possible for Bryant.
On Saturday, Bryant was cleared to resume basketball activities. However, Bryant's claim that he could see himself playing in November seems incredulous. After all, Bryant's injury was a third-degree tear, which means it was completely ruptured. That doesn't mean it was simply torn in two like tearing a piece of paper.
Rather, it was shredded. The two ends looked like spaghetti. Thus, it is the surgeon's job to put it back together to facilitate healing. It's been more than seven months since his surgery, and Bryant has returned to practice.
What can we expect from him? And is it actually possible he could play in a game in November as he claimed? Unlikely.
To read the complete article about whether Kobe can play in November and what to expect when he returns, sign up to become an ESPN Insider.
Insider
All-American, Baylor University
Player, USFL, 1984-86
Player, NFL, 1986-91
MD, Harvard Medical School
Assistant professor, Department of Orthopedic Surgery, University of Texas Medical School
Co-medical director, Ironman Sports Medicine Institute, Memorial Hermann
Former team physician, U.S. Ski Team
Former team physician, Houston Rockets, NBA
EDITORS' PICKS
As the season grows near, our countdown rolls ahead.
ICYMI: The Ten »

The Wolves have made Eric Bledsoe a max offer.
Windhorst »

Spurs No. 1!