Did LeBron's pass give the Cavs a better shot to win?
Originally Published:
May 24, 2007
By
John Hollinger
| ESPN Insider
Shoot or pass? That dilemma faced
LeBron James
as he drove the lane in the final seconds of Monday night's Game 1 of the Eastern Conference finals. He could keep driving left toward the basket and, taking advantage of the half-step he had on Detroit's
Tayshaun Prince
, probably lay the ball in to tie the game at 78.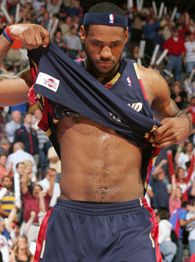 D. Lippitt/Einstein/Getty ImagesLeBron's decision to pass has sparked quite the debate.
Or he could fire the ball toward the corner, where a wide-open
Donyell Marshall
-- the same guy who drained six 3-pointers in the Cavs' series-clinching win over the Nets three days earlier -- was waiting to pull the trigger on a potential game-winner. James opted for the latter option, and is getting lots of grief about it. The prevailing opinion is that James, as the team's best player and undisputed leader, should have put it upon himself to tie the game rather than abdicate the responsibility to a teammate. This reeks of Monday morning quarterbacking, of course; nobody would be saying boo had Marshall made the shot, just like nobody criticized James when he passsed to a wide open Damon Jones in the opposite corner for the series-clincher against Washington a year ago. I might also add that since we've recently given consecutive MVP awards to a guy who would have made that pass 100 times out of 100, folks might want to be more consistent with their standards. Nonetheless, James will have that hanging over his head as the Cavs go into tonight's Game 2 in Detroit, and perhaps for much longer. In the meantime, let's break this play down and try to answer the big question: Which decision gave the Cavs better odds of winning? By estimating some answers to a few key questions, we can get to the bottom of this:
1. What were the odds of Cleveland's winning in overtime?
The first step here is figuring out the ramifications from LeBron's decision -- meaning we need to calculate how either a 2-point basket by James or a 3-point basket by Marshall changed the Cavs' probability of winning. Looking for Donyell Marshall on this list? He's only 1-for-6 (16%) in "game-winning shots." -- ESPN.com staff
-- Data provided by 82Games.com Obviously, a 2-point basket by LeBron would be likely to send the game into overtime, so we'll start here. We might assume Cleveland's odds in OT were less than 50-50 because the Cavs were playing on the road against a team that appears to be superior. But five minutes is a pretty small snippet of time, and the shorter the game gets, the more random the outcome. Additionally, there's another factor at work here. Overtime is short enough that winning the jump ball can have a real impact on winning and losing, and Cleveland has perhaps the best jump-ball taker in the league in 7-3
Zydrunas Ilgauskas
. I don't have data for this season, but according to 82games.com he won 62 percent of his jump balls last season, and he's been better in other years -- in 2002-03, for instance, he was an absurd 68-13 in opening tips. So that probably pulls the lever back toward 50 percent, if not slightly above. Let's go with 50 percent for our exercise; if it's really 51 percent or 49 percent or something, it has almost no impact on our results. (Side note while we're talking about Big Z: Ilgauskas was yanked by Mike Brown on the last possession even though he was the team's high scorer with 22 points. I was absolutely flabbergasted, but it's been 48 hours and nobody has said a peep about it.)
To continue reading this article you must be an Insider
Insider
EDITORS' PICKS
ESPN The Magazine

Another surgery will keep KD out the rest of the season.
J.A. Adande »

The Warriors routed the Griz in a meeting of West's top 2.
Wallace »