Where do Pistons go now? No easy answers
Updated:
June 7, 2006, 3:09 PM ET
By
Chad Ford
| ESPN Insider
One NBA title. A Game 7 in the Finals. 64 wins this season. Four players in the 2006 All-Star Game. The Detroit Pistons' run the last three seasons has been amazing.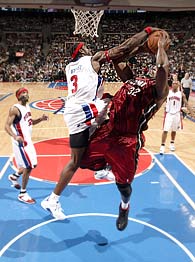 Jesse D. Garrabrant/NBAE/Getty ImagesWill Big Ben still be anchoring Detroit's frontline in '06-07?
Unfortunately, Pistons fans, it's over. The Pistons had their backs against the wall again on Friday night and they did what they don't usually do -- they came up short. The team couldn't make a shot and couldn't stop Miami. Have we witnessed the end of an era? Is this the '04 Lakers all over again? Pistons president Joe Dumars doesn't have long to figure out what changes, if any, need to be made to his team. For starters,
Ben Wallace
hits free agency July 1. Then Chauncey Billups wants a big contract extension this fall. So what's the blueprint for the future? The Pistons were the best basketball team in the NBA in the regular season. So Dumars could look at this year's 64 wins and say, "There's no reason to panic." Under this premise, they could play the starters a little less next year, get more comfortable with head coach Flip Saunders and be just fine. Or, Dumars could make a few minor tweaks to the team to address the glaring weaknesses. Adding a quick guard to break down defenses and get to the basket would open up the offense. Finding a little low-post scoring would lessen Detroit's dependence on the jump shot. Or, Dumars could blow up the Pistons and start from scratch. He could scrap the coach, sell off the players to the highest bidder and rebuild the Pistons. No matter what plan he chooses, he faces serious roadblocks. The team is capped out, limiting what it can do in free agency. Also, the Pistons don't have a first-round draft pick this season. And a number of young Eastern Conference teams, such as the Cavs, who almost knocked out the Pistons this year, appear to be on the rise. Here are the three biggest issues Dumars will have to sort out this summer:
To continue reading this article you must be an Insider
Insider
SPONSORED HEADLINES
MORE NBA HEADLINES
MOST SENT STORIES ON ESPN.COM
EDITORS' PICKS
Russell Westbrook will return to action Friday night.
Story »

Best team of the first month? Best player?
5-on-5 »

Derrick Rose scored 21 points in his return to the lineup to the lead the Bulls past the Celtics.