Roster Reload: Washington Wizards
How can Wizards add to their core of John Wall, Bradley Beal, Nene Hilario?
Once upon a time, the District of Columbia was not just the capital of this country, it was arguably the capital of professional basketball. During a decade that was one of the most egalitarian periods in NBA annals, the then-Washington Bullets won more games than any other Eastern Conference club, took four conference championships, won the 1978 NBA Finals and perpetuated a 12-year streak of reaching the postseason. Led by the two best players in franchise history -- Wes Unseld and Elvin Hayes -- Washington was a constant in the ever-changing NBA power structure. That was then, and the franchise we now know as the Wizards has not won 50 games in any season since Washington lost the 1979 Finals to Seattle.

This season, the Wizards advanced past the first round for the first time since 2004. This kind of mediocrity has been achieved in Washington before with teams occasionally bobbing above the .500 mark to eke into the playoffs, but this time feels different. In John Wall and Bradley Beal, the Wizards might have found their best one-two punch since the days of Unseld and Hayes. But D.C. has seen young duos before, with Jeff Ruland-Rick Mahorn in the 1980s, Juwan Howard-Chris Webber in the 1990s and Gilbert Arenas-Caron Butler this past decade. Can the Wizards build upon this season's progress, or will a franchise mired in mediocrity for three decades ebb back into the muck?
NBA FINALS ON ESPN.COM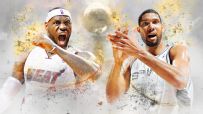 Follow the playoffs on ESPN:
Twitter | Facebook | G+
MORE CONTENT
EDITORS' PICKS
D12's back for the Rockets, backing the Beard.
Watkins »

Why Durant is smart to go for surgery over heroism.
Adande »

Fitting in is Jeremy Lin's biggest challenge now.
Torre »

MOST SENT STORIES ON ESPN.COM