Roster Reload: Golden St. Warriors
Should the Warriors trade for Kevin Love? And will Mark Jackson return?
A season of tumult finally came crashing down, and an offseason of questions commences. After a massive retooling in 2013 following an exciting playoff run, expectations in the Bay Area were for the Warriors to compete for home-court advantage in an extremely tough Western Conference and perhaps be the dark-horse pick to make it to the Finals. Instead, a sixth-seed placing in the playoff bracket can be construed as a disappointment despite the fact it took 51 wins to get there (Golden State's first 50-win season in 20 years).

Criticisms of coach Mark Jackson's offense being unimaginative continued, and it often felt like he was driving a Ferrari with the hand break on; the only time it would release was during the playoffs when forced to go smaller lineups due to injuries. Additionally, the dismissal of two assistant coaches a few weeks before the playoffs only served to bring more scrutiny and turmoil around the organization. Where do they head from here?
NBA FINALS ON ESPN.COM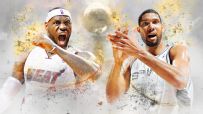 Follow the playoffs on ESPN:
Twitter | Facebook | G+
MORE CONTENT
EDITORS' PICKS
Who are the best -- and worst -- owners in the league? Our ESPN Forecast panel weighs in.
Rankings »

ESPN The Magazine

Which NBA team will land Kentucky's Karl-Anthony Towns? Take a spin through the Lottery Mock Draft.
Lotto Mock Draft »


MOST SENT STORIES ON ESPN.COM