Is Russell Westbrook to blame?
Thunder guard averaging 8.7 seconds of possession between passes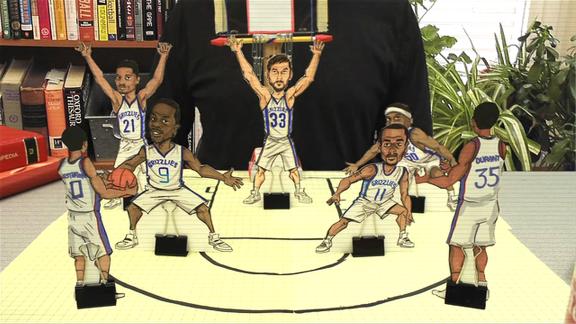 The Thunder's Bad Mix
Kevin Durant and Russell Westbrook are wonderful players. So why aren't the Thunder at their best with both players in the floor?
The Thunder's Bad Mix
Let's do a little exercise. I want you to count nine Mississippis.
One Mississippi.
Two Mississippi.
Three Mississippi.
Four Mississippi.
Five Mississippi.
Six Mississippi.
Seven Mississippi.
Eight Mississippi.
Nine Mississippi.
Whew! Seems long, right? Next step: Do the same thing, but this time while you're counting to nine, I want you to imagine Russell Westbrook dribbling the ball.
I'll wait right here.
Done?
So that felt unbearably long, huh? There's a reason we did that. That is the average length of time that Westbrook has possessed the ball in between passes this postseason. Actually, it's 8.7 seconds, to be exact. Sometimes it's longer than that, sometimes a bit shorter. Almost nine seconds on average.
This is what we've learned from SportVU's 3D cameras that have tracked every possession of every game this season. Westbrook pounds the ball more than anybody in the NBA. In the regular season, Westbrook received a HabersTrophy in the ball-hogging category by averaging 7.8 seconds of possession between passes, the highest such rate in the NBA during the regular season.
You thought that was sticky? The ball has been sticking like glue this postseason. Westbrook's NBA-high ball-hogging rate has now crept up in the postseason, and he's shooting 34 percent from the floor and 18 percent from downtown. His average time of possession is by far the highest of any point guard this postseason.
And now the Oklahoma City Thunder are one loss away from a first-round exit.
To read Tom Haberstroh's full story on whether Russell Westbrook is to blame for the series deficit, sign up for Insider today.
Insider
ESPN.com NBA analyst since 2010
ESPN.com Insider researcher in 2009
Developer of NBA DRAFT Initiative database
SPONSORED HEADLINES
MORE NBA HEADLINES
MOST SENT STORIES ON ESPN.COM
NBA FINALS ON ESPN.COM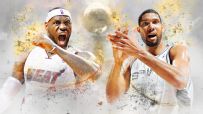 Follow the playoffs on ESPN:
Twitter | Facebook | G+
MORE CONTENT
EDITORS' PICKS
The Cavs' OT win in Chicago carries extra meaning.
Windhorst »

The Lakers-Clippers rivalry still has a ways to go.
Markazi »

Superstars as superheros. T. rex terrorizing Phoenix. We recap Halloween in the NBA.
The Ten »