What's next for the Lakers?
Their season's over. But is the drama? Where does L.A. go from here?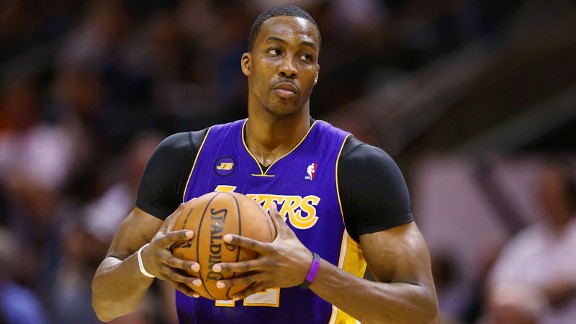 Ronald Martinez/Getty ImagesDid Dwight Howard's ejection Sunday night foreshadow his exit from the Lakers?
To read more about what Bradford Doolittle the Lakers should do next after being eliminated from the playoffs, become an Insider today.
Insider
Sports reporter, Kansas City Star, 2002-09
Writer, Baseball, Baseball Prospectus
Co-author, Pro Basketball Prospectus
Member, Baseball Writers Association of America
Member, Professional Basketball Writers Association
The NBA Playoffs On ESPN.com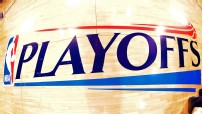 Follow the NBA playoffs on ESPN:
Twitter / Facebook / Google+
LATEST CONTENT
SERIES PAGES
ESPNNBA

NBA on ESPN


Russell Westbrook has 3 triple-doubles this month. That's as many triple-doubles as any other player has this season. http://t.co/qZp9kF0LGi
40 minutes ago

ESPNNBA

NBA on ESPN


Despite Westbrook's huge night, Phoenix snaps OKC's 7-game win streak in OT, 117-113. Bledsoe: 28 Pts, 13 Reb, 9 Ast http://t.co/ryKY4mpjdA
47 minutes ago

ESPNNBA

NBA on ESPN


Russdiculous. Westbrook's back-to-back triple-doubles give him 4 on the season. http://t.co/sVCqNKNb9A
about an hour ago

mcten

Dave McMenamin


New story: Kyrie Irving to undergo an MRI on his L shoulder Friday morning http://t.co/P4TC88Thzc
about an hour ago

mcten

Dave McMenamin


Kyrie Irving will receive an MRI on his L shoulder tomorrow morning in Cleveland. Won't fly to Indy tonight w/ team. Doubtful for IND game.
about 2 hours ago

ESPNNBA

NBA on ESPN


The NBA is divided...over the color of the dress. The league may never recover from this. http://t.co/4wr1ftY51M
about 2 hours ago

Chris_Broussard

Chris Broussard


R.I.P. to Earl Lloyd, 1st African-American player in the NBA
about 2 hours ago

mcten

Dave McMenamin


Kyrie Irving was still favoring his L shoulder a bit after the game. He said he'll get treatment in Indiana and hopes to play.
about 2 hours ago

mcten

Dave McMenamin


Steve Kerr on LeBron: "The best player on the planet for the last five years had a huge game against us"
about 2 hours ago

ESPNNBA

NBA on ESPN


Breaking ankles & dishing dimes. Warriors might have lost, but Andre Iguodala earned a spot on #SCtop10 w/ this play. http://t.co/s0rZaRRIub
about 3 hours ago

ESPNNBA

NBA on ESPN


King James takes over as Cavs beat NBA-best Warriors, 110-99. LeBron drops season-high 42 points in win. http://t.co/iSfpQiIicI
about 3 hours ago

ESPNNBA

NBA on ESPN


Tonight marks LeBron's 41st 40-5-5 game. 2nd most in NBA history over last 30 years behind MJ. Kobe & AI are 3 & 4. http://t.co/087y0dma6J
about 3 hours ago

mcten

Dave McMenamin


Cavs win 110-99 for 18th W in last 20 games, improve to 37-22. LeBron season-high 42p 11r; Kyrie 24p; Love 16p 8r; Mozgov 10p 10r
about 3 hours ago

mcten

Dave McMenamin


Saddened to hear about the death of NBA pioneer Earl Lloyd. Feel fortunate he told me his story a few years back http://t.co/OrxXlbRSYx
about 3 hours ago

ESPNSteinLine

Marc Stein


DESPITE!
about 4 hours ago

ESPNSteinLine

Marc Stein


And yet here we are with those pesky Dubs, depiste Splash Bros at 10-for-25 and rash of missed FTs as a team, only down nine with 8:32 to go
about 4 hours ago

ESPNSteinLine

Marc Stein


Fairly clear since 5:30 PM, when @KingJames was first player on floor way before tip, that he's tired of Steph/Harden/Russ hogging MVP ink
about 4 hours ago

ESPNNBA

NBA on ESPN


As @stephenasmith would say: "LeBron James is a badddd man." http://t.co/pN0OvXtg6S
about 4 hours ago

mcten

Dave McMenamin


Tonight's LeBron's third 40-point game of the season. Cavs were 1-1 in his first two.
about 4 hours ago

mcten

Dave McMenamin


Cavs up 90-78 through 3Q. LeBron 38p on 13-for-21 5r 4a; Kyrie 20p; Mozgov 10p 10r; Love 10p; T.Thompson 8p 7r.
about 4 hours ago

MOST SENT STORIES ON ESPN.COM