No. 25: Sacramento Kings
Originally Published:
June 18, 2010
By
John Hollinger
| ESPN.com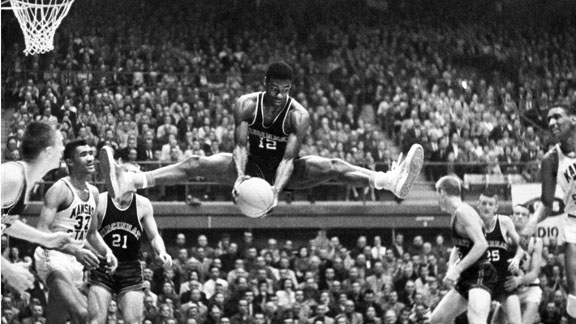 Collegiate Images/Getty ImagesOscar Robertson has been the franchise standard bearer for almost five decades in five cities.
25. SACRAMENTO KINGS: 39.6 POINTS PER SEASON (1948-2010)
Wins: 2,300
Playoff wins: 77
Series wins: 16
Titles: 1
All-Stars: 73

Best player: Oscar Robertson
Best coach: Rick Adelman
Best team: 2001-02 (61-21, lost conf. finals)
Intangibles: +100. Oscar, Tiny and the beautiful passing of the early 2000s clubs.
In their cross-country odyssey through five of the league's smallest markets (seriously, Omaha?), the Kings have rarely threatened the league's powers. Yet some singular talents have passed through the Kings' bailiwick, most notably legendary Oscar Robertson when the team played in Cincinnati as the Royals.
Alas, Robertson had to win his championship ring someplace else -- the best he ever did for his original franchise was lose to the Celtics in the conference finals in a seventh game in 1963. In 1960-61, he averaged a triple-double, the only time that has happened in league history … and the Royals went 44-36 and lost in the first round of the playoffs.
FRANCHISE HISTORY
Sacramento Kings (1985-present)
Kansas City Kings (1975-85)
Kansas City-Omaha Kings (1972-75)
Cincinnati Royals (1957-72)
Rochester Royals (1948-57)
The franchise's one title came in little ol' Rochester way back in 1951, when the Royals beat the Knicks in seven games. They did it the hard way, blowing a 3-0 series lead and trailing in the final two minutes of Game 7 before rallying to win the title behind Arnie Risen and Bob Davies. Had this happened in L.A. in 2009 instead of Rochester in 1951, there would have been books, cartoons, movies and multiple TV series created to recount the near collapse.
Believe it or not, the franchise hasn't been back to the Finals in the 59 years since. The best chance came in 2002 in Sacramento, when the Kings lost to the eventual champion Lakers in overtime in a seventh game at home. That club was part of the best sustained run in Kings history, winning at least 50 games for five straight years under Rick Adelman before Chris Webber hurt his knee and the supporting cast began showing its age.
The Kansas City era was largely forgettable, especially the bizarre two-year run when the Kings played some home games 200 miles away in Omaha and stuck a hyphen in their team name. Tiny Archibald became the league's only player to lead the league in scoring and assists, but the team's only conference finals trip in that era came rather flukishly after a 40-42 campaign in 1981.
Overall, the team has made the postseason just 23 times in 53 years since leaving Rochester, with just four conference finals trips and nary a conference title to show for it. Upstate New York was 3,000 miles and three relocations ago (going on four, perhaps), but contending annually in the early 1950s remains the high-water mark for Kings basketball.


ESPN Insider John Hollinger
• Twitter @johnhollinger | ESPN.com | TrueHoop | Email | Stats
• Follow ESPN's NBA coverage on Twitter | On Facebook | On Google+
Hollinger's NBA Franchise Rankings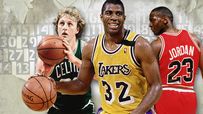 How do all 30 teams stack up for all time? John Hollinger ranks each squad from best to worst.
INTRODUCTION
TOP 10
INSIDER

MOST SENT STORIES ON ESPN.COM