Commentary
Automatic
Every NBA finals hero has his own 'sweet spot,' via magic, luck and work
Updated:
June 16, 2010, 6:12 PM ET
By
Ric Bucher
| ESPN The Magazine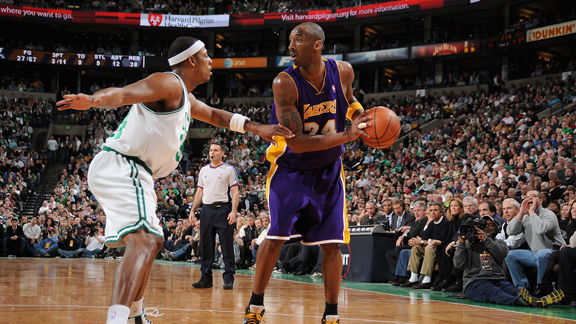 Getty ImagesFor somewhere between four and seven games this month, Paul Pierce and Kobe Bryant will try to prevent access to respective 'sweet spots' on the hardwood.
This article appears in the June 14 World Cup preview issue of ESPN The Magazine; you can find all content from that issue in the sidebar to the right or by clicking here.
They all have them. All players, whether a Kobe-esque star or a Redick-like ­sidekick, have their place on the court. It's the one spot from which, when you close your eyes and imagine them rising for a shot, you know it's going in before the ball has even left their fingertips. It's their hot zone, wheelhouse, sweet spot. Whatever you call it, they find their way to that particular patch of real estate over and over again. The way they cock the ball and let it fly without hesitation; it's as if distance and trajectory had been coded into their DNA. And at some point during this year's NBA Finals, someone's sweet spot will serve as the axis on which the series spins.
Sometimes the shot closes a series, as Steve Kerr's straight-on 17-footer did in Game 6 to clinch the 1997 title for the Chicago Bulls. Sometimes it sets the tone, as Paul Pierce's did for the Boston Celtics in the series opener in 2008. After being carried off the floor with a sprained right knee, Pierce came back in, nailed two quick shots from the right three-point elbow and went on to win series MVP. Sometimes it's the swing of the ax that leads to the tree's eventual fall, as did Derek Fisher's trey that led to an overtime win for the Lakers in Game 4 last year, stealing the Orlando Magic's resolve.
But how do a player and his sweet meet? Is the relationship born from the configuration of a ­player's backyard hoop? His first coach? Current one? How opposing teams defend him? What hand he shoots with? How he stirs his coffee?
This is a different type of story. It has a Magazine-esque feel to it, sure, but it's a good read a few days before the 2010 NBA Finals kick off. To keep diving into it -- good analysis from Steve Nash, Paul Pierce, Kobe Bryant and Derek Fisher will follow -- you must be an Insider. Part of the logic of charging for Insider is 'access,' and this article does offer that.
Insider
NBA Reporter, ESPN The Magazine Senior Writer
Senior writer for ESPN The Magazine
Co-authored "Yao: A Life in Two Worlds"
Full-time beat writer/NBA analyst since 1992
ESPN The Magazine's World Cup preview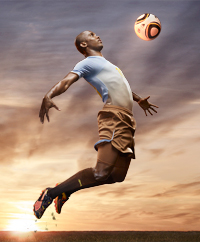 Check out all the content from ESPN The Magazine's June 14, 2010, issue (The World Cup preview). Where noted, the content is for ESPN Insiders.
Editorial Content
Videos

MOST SENT STORIES ON ESPN.COM