Commentary
NBA Finals: Past meetings favor Magic
Six things to take away from the past three games between the Magic and Lakers
Originally Published:
June 1, 2009
By
John Hollinger
| ESPN.com
Regular-season results are often a great indicator of what will happen in a playoff series, and it's a lesson I've been learning the hard way this postseason. All three series that I forecast incorrectly have had that same theme. In each case, it ended with the team that looked better on paper losing in six games: • Portland had the league's best point differential in the second half of the season but had an unusual amount of trouble with the Rockets, losing twice in three games and needing a miracle shot to prevail in the other meeting. That played out in the postseason, as the Rockets scored a 108-81 blowout win in Game 1 and went on to win in six. • Denver had the league's best point differential between March 1 and the start of the conference finals, but lost three of four against the Lakers in the regular season and was swept in the first round the previous April. After a rocky start, L.A. prevailed again by dominating the final three halves of the series. • Cleveland led the league in wins and point differential and had the league's best player. But it was blown out twice in three regular-season meetings against Orlando and barely won the third game. As with the other two, that scene played out in the conference finals, as the Cavs blew a big Game 1 lead to punt home-court advantage and ultimately fell in six games. • If you want to go back further in history to another erroneous prediction, there's always last season's Finals. I took L.A., along with nearly all the ESPN staff, despite Boston's 2-0 advantage in the regular season because the Lakers had been off the charts statistically with Pau Gasol in the lineup. Alas, Boston's regular-season advantage again won out. This is a big story entering the Finals, of course, because Orlando won the season series against the Lakers 2-0. And apparently I learn incredibly slowly, because I picked the Lakers to win in six. I'll delve into my reasons for liking L.A. as we get further into the week, but for now I wanted to focus more on those two Orlando victories, as well as the teams' only other meeting since the Pau Gasol trade (a 117-113 L.A. win in Orlando on Feb. 8, 2008). In the three games, six major trends popped up that are worth noting. Those factors should gave us an early read on storylines to look for in the Finals:


To continue reading this article you must be an Insider
ESPN The Magazine subscribers

Need more information?
SPONSORED HEADLINES
MORE NBA HEADLINES
MOST SENT STORIES ON ESPN.COM
NBA Playoffs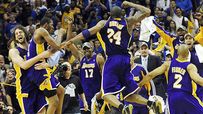 TODAY'S BEST
MORE ON THE PLAYOFFS

ESPN.COM PARTNER: NBA.COM