Commentary
NBA Debate: Best international player
Chris Broussard and Ric Bucher debate the merits of Pau Gasol and Dirk Nowitzki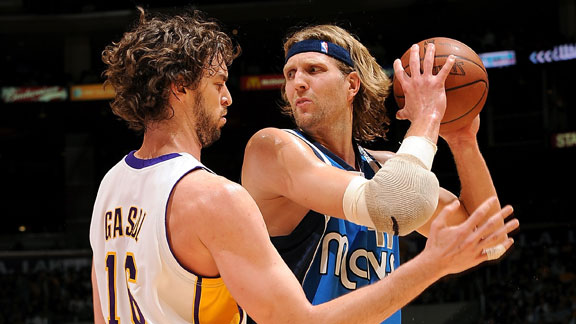 Noah Graham/Getty ImagesDirk and Pau are two of the NBA's best. But who comes out on top?
The only thing Ric Bucher and Chris Broussard like to do more than report on the NBA is argue about the NBA. So we decided to combine those two skills for Insider's weekly One-on-One series, in which they'll debate the hottest topics in the association.
Question: Who is the best international* NBA player ever?
* "International" defined as a player born and primarily developed overseas. Hakeem Olajuwon, for example, would have been the runaway favorite answer to this question had he not played college ball in the U.S. before making the jump to the NBA.

BUCHER: With Pau Gasol being the first international big man to play a prominent role in back-to-back championships, the question of who is the NBA's best all-time international player* has gained some grist. I believe Vlade Divac, Arvydas Sabonis and the late Drazen Petrovic are all in the conversation for various reasons -- as is Gasol, of course -- but I'm going to go with the big German in Dallas, Dirk Nowitzki, as the one who has been the best all-around player.

BROUSSARD: Sabonis may have been the international king had he played in the NBA during his prime, but since we never got to see him at his best, it comes down to Dirk and Gasol. I'm a huge Dirk fan, but I'm more and more impressed by Pau every day. Both guys are Hall of Famers and the 1 and 1A of European ballers. But I'm going to say Pau's No. 1.
To see why Ric Bucher believes Dirk Nowitzki is the best shooting big man the NBA has ever seen, and why Chris Broussard believes Pau Gasol is the better championship cornerstone, you must be an ESPN Insider.
Insider
NBA analyst
Senior Writer for ESPN The Magazine
Formerly at the New York Times, 1998-2004
Covering the NBA since 1995
NBA Reporter, ESPN The Magazine Senior Writer
Senior writer for ESPN The Magazine
Co-authored "Yao: A Life in Two Worlds"
Full-time beat writer/NBA analyst since 1992
EDITORS' PICKS
The Wolves have made Eric Bledsoe a max offer.
Windhorst »

We're ranking every player in the NBA. Today, it's Nos. 301-325
#NBArank

Spurs No. 1!

ESPN.COM PARTNER: NBA.COM