Commentary
Better cornerstone: Wall or Griffin?
Our experts debate which rookie they'd rather build a franchise around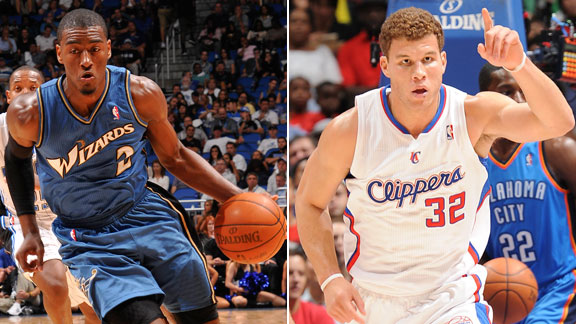 Getty ImagesJohn Wall and Blake Griffin are two of the NBA's brightest stars in the making.
The only thing Ric Bucher and Chris Broussard like to do more than report on the NBA is argue about the NBA. So we decided to combine those two skills for Insider's weekly One-on-One series, in which they'll debate the hottest topics in the association.
Question: Who would you rather build around, John Wall or Blake Griffin?

BUCHER: It's safe to say this year's rookie class has at least two players worthy of cornerstone status: Blake Griffin and John Wall. But if I could pick only one to build around, I'm going to go with the super-quick point guard from Kentucky now in Washington, D.C.

BROUSSARD: I agree that anyone would be happy to start with either player, but given the choice, I'll take big over small.
To see why Ric Bucher believes John Wall's skill set is paramount in today's NBA, and why Chris Broussard claims it's always best to build around a big man, you must be an ESPN Insider.
Insider
NBA analyst
Senior Writer for ESPN The Magazine
Formerly at the New York Times, 1998-2004
Covering the NBA since 1995
NBA Reporter, ESPN The Magazine Senior Writer
Senior writer for ESPN The Magazine
Co-authored "Yao: A Life in Two Worlds"
Full-time beat writer/NBA analyst since 1992
EDITORS' PICKS
Russ being Russ

Kawhi's the key

DeMar nets 42

MOST SENT STORIES ON ESPN.COM