Commentary
Offseason Blueprint: Vested teams
With their rosters largely locked in, they'll have to find unusual ways to improve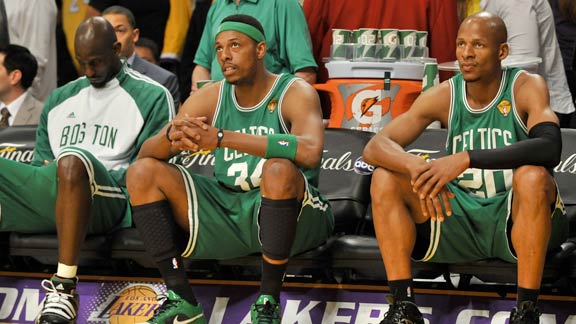 Brian Babineau/NBAE via Getty ImagesBoston would like to keep its Big Three together, but may have to dangle Ray Allen as trade bait.
ESPN Insider is breaking down what every team in the league could -- and should -- do during the most anticipated offseason in NBA history. Ric Bucher and Chris Broussard have separated the league into six groups based on everything from cap room to organizational philosophy. We conclude with vested teams -- the Celtics, Nuggets, Magic and Blazers. Follow the whole series here.
To see offseason plans for the Celtics, Nuggets, Magic and Blazers, plus what alternative moves Chris Broussard suggests if those teams can't execute Plan A -- like trading for Chris Paul, perhaps -- sign up for ESPN Insider today.
Insider
NBA analyst
Senior Writer for ESPN The Magazine
Formerly at the New York Times, 1998-2004
Covering the NBA since 1995

Chris Broussard and Ric Bucher are drawing up offseason blueprints for every team in the NBA, examining what each team's plan is and advising them on alternative options. Based on salary cap considerations, organizational philosophies and other factors, they've divided the league into six groups.
GROUPS
BIG SPENDERS


They're all after LeBron James and other max-contract free agents. But what other plans do they have up their sleeves?
(CHI, MIA, NYK, NJN)
SIGN-AND-TRADERS


These teams have big-time free agents who are likely to bolt. So what can they get in return?
(ATL, PHO, TOR)
MOVE MAKERS


They don't have the cash to sign big, but they can sure make a splash on the trade market.
(PHI, CLE, NOR, UTA, SAC, DAL, SAS, MIN)
CHANGE AGENTS


The moves will vary in size, but these teams need to make changes just for change's sake.
(DET, GSW, LAC, LAL, WAS)
ACCESSORIZERS


For these six squads, the offseason is all about niche moves to build around a core.
(CHA, HOU, IND, MEM, MIL, OKC)
VESTED TEAMS


Their rosters are largely locked in, requiring unusual, bold moves to improve.
(BOS, DEN, ORL, POR)

MOST SENT STORIES ON ESPN.COM