Commentary
Buyer's Guide: Dwyane Wade
D-Wade is the NBA's premier combo guard, but will his body betray him?
Originally Published:
June 23, 2010
By
Tom Haberstroh
| Special to ESPN Insider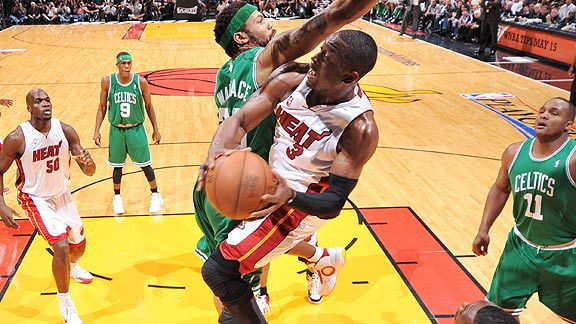 Jesse D. Garrabrant/NBAE/Getty ImagesWade's biggest strength is his ability to finish after contact. But it may also be his downfall.
ESPN Insider is analyzing NBA free agents not named LeBron James (we covered him pretty extensively a few weeks ago, and there's even more coming every day on the LeBron Tracker) to determine what they're really worth to the teams chasing them this summer. To follow the entire series, click here. We continue Wednesday with Dwyane Wade.
OVERALL ASSESSMENT
While LeBron James hasn't quite figured out the player he wants to be -- Magic Johnson or a bigger Michael Jordan -- Dwyane Wade has already carved out his identity as the ultimate combo guard. Wade is quick enough to blow by shooting guards but long enough to overpower point guards. "Dwyane is a function of his athleticism and his ability to be better than you physically," one league exec said. But what does that mean for his future?
To see what Dwyane Wade is really worth as a free agent -- including assessments from NBA executives, next-level stats and scouting reports of how he'd fit on various teams -- plus a recommendation for where he should land this summer, you must be an ESPN Insider.
Insider
ESPN.com NBA analyst since 2010
ESPN.com Insider researcher in 2009
Developer of NBA DRAFT Initiative database
SPONSORED HEADLINES
MORE NBA HEADLINES
MOST SENT STORIES ON ESPN.COM
Insider's NBA free agent Buyer's Guides

ESPN Insider is analyzing NBA free agents not named LeBron James (we've already covered him pretty extensively, and there's even more coming every day on the LeBron Tracker) to determine their true market value and best/worst landing spots.
CHRIS BOSH | FULL REPORT


Bosh can succeed so long as he goes somewhere with the right type of talent.
CARLOS BOOZER | FULL REPORT


Not only does Boozer punish opponents, he also tends to get himself hurt -- a lot.
AMARE STOUDEMIRE | FULL REPORT


The book may finally be out on Stoudemire: He's as electric as he is one-dimensional.
DIRK NOWITZKI | FULL REPORT


Nowitzki will almost certainly play in Dallas next season. But he'll come at a steep price.
DAVID LEE | FULL REPORT


Lee will get one lucky team Stoudemire-like production for a fraction of the cost.
DWYANE WADE | FULL REPORT


You can't question his production, but you have to worry about his body breaking down.
JOE JOHNSON | FULL REPORT


He can score on the wing, but at age 28, can a team really justify giving him a max contract?
RUDY GAY | FULL REPORT


The 23-year-old restricted free agent might be the biggest enigma on the market.
RAY ALLEN | FULL REPORT


While he is in the twilight of his career, there is always a market for a pure shooter.
BARGAIN BIN | FULL REPORT


There are many other ways for teams to improve beyond the max free agents.