Commentary
The right fit for the King
LeBron has a host of free-agency options, but these five are on top of the pile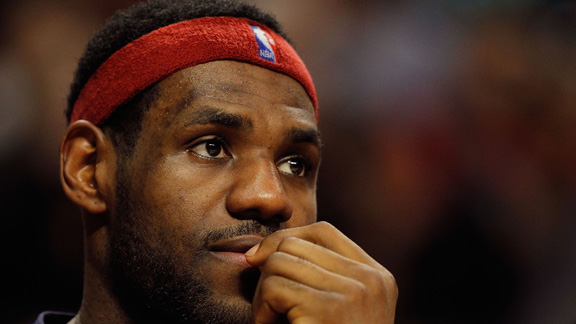 Jonathan Daniel/Getty ImagesThe time to choose is fast approaching.
The biggest question in the NBA is not, "Who's going to win the championship?'' but rather, "Who's going to get LeBron James?" Speculation swirls daily, rumors fly regularly, but the fact is, no one (perhaps not even James) knows what city he'll call home next season. But there is speculation and then there's informed speculation; there's guessing and then there's educated guessing. So after speaking with several folks around the league, here are our top five likeliest destinations for LeBron. Despite Mark Cuban's open courting of LeBron, we purposely omitted sign-and-trade possibilities, because for the Cavaliers that's either the ultimate last resort or no option at all. In the unlikely event the Cavs open themselves up to a sign-and-trade, then Dallas, Houston and perhaps the Los Angeles Lakers and Portland Trail Blazers could enter the discussion. But the Cavs know there would be no way to bring back equal value in a sign-and-trade, and they'd kill their future cap flexibility in the process. With that in mind, here are the five likeliest destinations for LeBron. Sorry, Clippers fans, you didn't make the cut. As usual.
To read Chris Broussard's ranking of the five likeliest places LeBron will land, you must be an ESPN Insider.
Insider
NBA analyst
Senior Writer for ESPN The Magazine
Formerly at the New York Times, 1998-2004
Covering the NBA since 1995
LeBron Week on ESPN Insider

Some of ESPN Insider's brightest basketball minds break down LeBron James' offseason future from every angle.
LeBron Week
May 17: Running Mates


John Hollinger ranks James' best potential teammates with his "LeBron Rating."
May 18: Building around LeBron


David Thorpe outlines the system and types of players LeBron should have at his disposal.
May 19: Out of his league


Ric Bucher argues that while every team wants James, The Player, no team should want James, The GM.
May 20: Cleveland Rocked


Peter Keating forecasts what would happen to the Cavs and Cleveland if LeBron left town.
May 21: The right fit for the King


Chris Broussard ranks LeBron's top five options in free agency.


MOST SENT STORIES ON ESPN.COM