Commentary
One-on-One: Surprise, surprise
Which team is best suited to make an unlikely postseason run? The debate rages.
The only thing Ric Bucher and Chris Broussard like to do more than report on the NBA is argue about the NBA. So we decided to combine those two skills in our weekly One-on-One series, in which they debate the hottest topics in the Association.
QUESTION: Which team will pull the biggest playoff surprise?
2010 NBA Finals On ESPN.com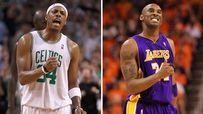 Follow ESPN's NBA coverage on Twitter
2010 NBA PLAYOFFS
PLAYOFF PREVIEW
FINALS PAGE
CONFERENCE FINALS PAGES

MOST SENT STORIES ON ESPN.COM