Commentary
One-on-one: The age minimum
As the Big Dance begins, should some of these guys be playing pro ball?
The only thing Ric Bucher and Chris Broussard like to do more than report on the NBA is argue about the NBA. So we decided to combine those two skills in our weekly One-on-One series, in which they'll debate the hottest topics in the Association.
Question: Should the NBA have an age minimum?
To read this debate -- it gets heated, and Bucher makes some interesting proposals for what to do with a drafted high school senior -- you must be an ESPN Insider.
SPONSORED HEADLINES
MORE NBA HEADLINES
MOST SENT STORIES ON ESPN.COM
The NBA On ESPN.com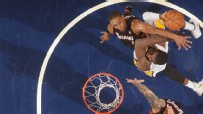 Follow the NBA on ESPN:
Twitter / Facebook / Google+
LATEST CONTENT
REGULAR FEATURES
ESPNSteinLine

Marc Stein


After the irresistible Dame vs. Dirk show, now can't wait for @swish41 visit w/ @ESPNSoccerToday special correspondent @coopmavs in the AM
about 5 hours ago

WallaceNBA_ESPN

Michael Wallace


Wallace: Heat regroup, embrace toughness against Love-less Timberwolves http://t.co/9ynLH5r5yk
about 5 hours ago

WallaceNBA_ESPN

Michael Wallace


LeBron, Oden, Norris consolation prize: ESPN projecting Ohio State-Clemson in Orange Bowl, bringing Buckeyes to Miami
about 6 hours ago

WallaceNBA_ESPN

Michael Wallace


D-Wade on knee: "The immediate pain right away, it hurt. But it faded away a lil bit. Knock on wood, it's all good."
about 6 hours ago

ESPNSteinLine

Marc Stein


Didn't you hear, @PeterVecsey1? All-Star Game is West only this season (+ Indy & Miami) #relaxmyfriends #justsomesaturdaynightfun
about 6 hours ago

ESPNSteinLine

Marc Stein


Not much else matters tonight after Indy v SA & Dame v Dirk (+ Monta) ... but there are new Kobe & Asik posts on SLL: http://t.co/4hN1c7r8Iw
about 6 hours ago

kpelton

Kevin Pelton


Monta Ellis: as cold as the weather in Portland tonight.
about 7 hours ago

jadande

J.A. Adande


@NotoriousOHM @jemelehill @KelleyLCarter @MagicJohnson @steve21smith Congrats to the Big Ten champs. Don't burn any couches!
about 7 hours ago

kpelton

Kevin Pelton


NBA ought to allow a team to advance with a timeout but let play continue after a replay review. #hoopidea
about 7 hours ago

kpelton

Kevin Pelton


Blazers ball down 3 with 6.8 seconds remaining. #nbatvalert
about 7 hours ago

kpelton

Kevin Pelton


Can't get more open than Mo Williams on the tying 3 in transition. No dice.
about 7 hours ago

kpelton

Kevin Pelton


Blazers put Batum on Calderon, which allows them to switch the pick-and-roll without creating a Dirk mismatch.
about 7 hours ago

kpelton

Kevin Pelton


Lillard competes like crazy, but you can't leave him on an island with Dirk 1-on-1. No sir.
about 7 hours ago

WindhorstESPN

Brian Windhorst


Impressive game from Sparty, esp. considering refs let OSU hold all game. Bucks clearly do not have championship D,FSU would've slaughtered
about 7 hours ago

kpelton

Kevin Pelton


Dirk bringing the rain to quiet the crowd. This game is great.
about 7 hours ago

kpelton

Kevin Pelton


Damian Lillard's swag is phenomenal right now. #LeaguePassAlert
about 7 hours ago

kpelton

Kevin Pelton


Blazers have rebounded 42.5% of their misses tonight. Second chances keeping them in the game.
about 7 hours ago

WallaceNBA_ESPN

Michael Wallace


Me: What day is it? Bosh: I didn't know what day it was b4 I got hit. Me: Who hit u? Bosh: Shane. I just saw a bright fist coming at me.
about 7 hours ago

RoyceWebb

Royce Webb, ESPN NBA


RT @kpelton: If someone does a documentary on this year's Pacers, title it "Gunnin' for That No. 1 Seed."
about 7 hours ago

kpelton

Kevin Pelton


Going to be a great fourth quarter in Portland with the Mavericks starting up by 3.
about 7 hours ago