Commentary
NBA Offseason Buzz: Philadelphia 76ers
The Sixers hope this is the season Thaddeus Young becomes a star
Originally Published:
September 10, 2009
By
John Hollinger & Ric Bucher
| ESPN Insider

Want to know who's heating up for a big season on the hardwood? Insider is tapping into John Hollinger's projected player efficiency ratings to see who's trending up and down across the NBA. Ric Bucher rounds out the report by examining a pivotal player you'll want to watch as the season approaches. The series continues with the Philadelphia 76ers.
Jason Kapono, acquired from Toronto for Reggie Evans, gives the Sixers the 3-point shooting they desperately needed. Free-agent center Primoz Brezec bolsters their front line at a great price. Those are two nice moves that are not likely to offset the summer's big loss, PG Andre Miller, who signed with the Blazers.
Not that the Sixers had a choice. Stealing PF Elton Brand last summer from the Clippers proved to be the equivalent of a bank heist in which the robber gets home, opens the money bag and gets blasted with indelible ink. Brand, aside from being expensive, killed the Sixers' up-tempo game and then got injured. If Brand can't get them to the playoffs -- as Miller did last season -- the Santa Claus treatment is a lock.
To see which player is taking off, which is crashing to earth and which name you'll need to know for the 2009-10 season, you must be an ESPN Insider.
To continue reading this article you must be an Insider
Insider
2009 NBA OFFSEASON BUZZ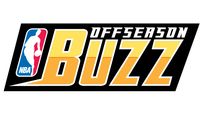 As the NBA offseason winds down and we gear up for the 2009-10 campaign, Insider taps into the insights of John Hollinger and Ric Bucher to examine who's rising, who's falling and who's worthy of extra attention on evey NBA roster.
Pacific Division
Northwest Division
Southwest Division
Atlantic Division
Central Division
Southeast Division
Note: For definitions of all of John Hollinger's advanced statistics, click here.
Adidas Youth Philadelphia 76ers Climalite Royal Performance T-shirt Shop »

MOST SENT STORIES ON ESPN.COM