Commentary
NBA Offseason Buzz: L.A. Lakers
Kobe's production should slip next season, but Farmar could pick up slack
Updated:
August 24, 2009, 2:17 PM ET
By
John Hollinger & Ric Bucher
| ESPN Insider

Want to know who's heating up for a big season on the hardwood? Insider is tapping into John Hollinger's projected player efficiency ratings to see who's trending up and down across the NBA. Ric Bucher rounds out the report by examining a pivotal player you'll want to watch as the season approaches. The series begins with the champs, the Los Angeles Lakers.
The Lakers avenged their 2008 NBA Finals face-plant against the Boston Celtics, Kobe got his ring sans Shaq and Phil Jackson broke his tie for championships with Red Auerbach. So what's their motivation this time around?
"Proving that Ron Artest isn't title-prohibiting crazy" probably won't be on the cover of the media guide, but it's hard to find a more compelling answer at the moment. It's easy to forget now, but the one question looming over the Lakers last season was whether they had the necessary killer instinct and mental toughness to win a championship. Now the question is, did they forge some permanent inner steel by overcoming Houston, Denver and, finally, Orlando, or will the removal of so many monkeys from so many backs cause them to lose that grit?
Oh, and what happens if Kobe's production begins to decline after his super season?
To see which player is taking off, who is crashing to earth and which name you'll need to know for the 2009-10 season, you must be an ESPN Insider.
To continue reading this article you must be an Insider
Insider
2009 NBA OFFSEASON BUZZ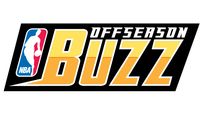 As the NBA offseason winds down and we gear up for the 2009-10 campaign, Insider taps into the insights of John Hollinger and Ric Bucher to examine who's rising, who's falling and who's worthy of extra attention on evey NBA roster.
Pacific Division
Northwest Division
Southwest Division
Atlantic Division
Central Division
Southeast Division
Note: For definitions of all of John Hollinger's advanced statistics, click here.

MOST SENT STORIES ON ESPN.COM