Commentary
Rookie Watch: Hawks' Horford soars into No. 1 spot
Originally Published:
February 20, 2008
By
David Thorpe
| ESPN.com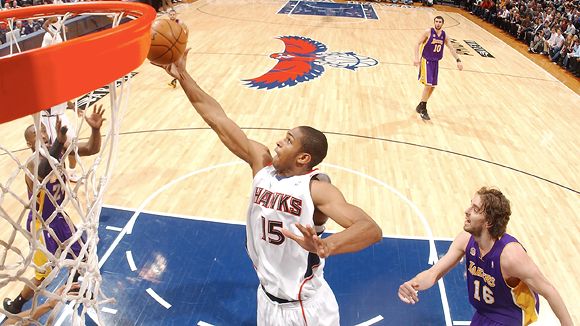 Scott Cunningham/Getty ImagesDon't look now, but Al Horford is giving Kevin Durant competition for the rookie of the year award.

Earlier this season, I predicted that once Kevin Durant earned the top spot in my rookie rankings, he would coast the rest of the way as the clear choice for rookie of the year. In a sense, I was both right and wrong. Durant has indeed coasted, but oftentimes during games -- mailing in efforts in every area but scoring and lacking the discipline to play out each possession while focusing soley on making the best possible play for his team.

Durant is only 19 years old, giving him plenty of time to grow into his game. He seems to be playing out of position as well, which is a handicap. He has indeed been spectacular at times. But he has been surprisingly ineffective overall, more so than his talent and opportunity should allow.
Top 10 rookies
Here are my top 10 rookies 16 weeks into the season:
(Previous rank in parentheses)
1. Al Horford, Hawks (2)
2. Kevin Durant, Sonics (1)
3. Sean Williams, Nets (3)
4. Luis Scola, Rockets (4)
5. Thaddeus Young, Sixers (6)
6. Jamario Moon, Raptors (5)
7. Juan Carlos Navarro, Grizzlies (8)
8. Joakim Noah, Bulls (7)
9. Al Thornton, Clippers (9)
10. Glen Davis, Celtics (10)

• Click here for Thorpe's top 50
• Thorpe's previous top 10

Although Durant is in some respects enjoying his best month of the season, there is another rookie who has been good all season and recently has taken his game up a notch -- Al Horford, who, as of today, is my new No. 1. I'll make no predictions regarding how long Horford will keep this spot, save one: There will be no coasting on the court from him.
To continue reading this article you must be an Insider
Insider
NBA Analyst for ESPN.com
Executive director of Pro Training Center
Started coaching career in 1987
NBA Rookie 50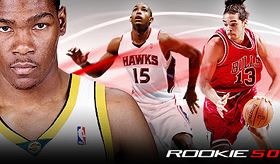 Editor's note: During the regular season, Scouts Inc.'s David Thorpe ranked the rookies and provided observations on the celebrated class.
Check out Thorpe's final Rookie 50 rankings.
Thorpe's Weekly Reports
•
4/16: The top 10 rookies in 2007-08
•
4/08: Stuckey cracks the top 10
•
3/26: Durant, Horford both enjoying March
•
3/19: Hornets' Wright creating some buzz
•
3/12: Scola takes over No. 1 spot
•
3/05: Houston's Landry lands in top 10
•
2/27: Thornton climbs into Top 5
•
2/20: Breaking down Durant and Horford
•
2/13: Who's hot heading into the break?
•
2/06: Who needs to stop chucking?
•
1/30: Noah's rising, Durant's struggling
•
1/23: Navarro, Noah making noise
•
1/16: Conley makes appearance in Top 10
•
1/09: Which players are hitting the wall?
•
1/02: Young, Green, Stuckey showing signs

MOST SENT STORIES ON ESPN.COM