Commentary
Does Marbury have any trade value? Yes, actually
Originally Published:
November 13, 2007
By
Chris Sheridan
| ESPN.com
Maybe the Stephon Marbury-Isiah Thomas feud blows over after a few hours, or maybe after a few days. But maybe it doesn't. In that case, the question for the New York Knicks is: Can we trade him?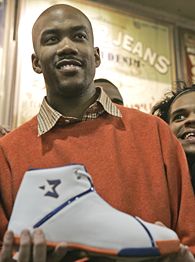 Mary Altaffer/AP PhotoMarbury's shoes may be a big hit on the market, but is he?

The common belief is that Marbury's contract, which pays him $19.2 million this season and a guaranteed $21.1 million next season, makes him untradeable. But there is another way to look at it, and from a certain perspective the thing that makes Marbury so unattractive is the very same factor that makes him attractive -- his contract. Here's why: If you are the owner or the general manager of a team looking to rebuild, one of the best assets you can have is a contract worth $21.1 million coming off your salary cap in the summer of 2009 when there will be a bumper crop of free agents that could include many of the players from the 2004 draft class who did not agree to contract extensions prior to the Oct. 31 deadline, including Andre Iguodala, Emeka Okafor, Luol Deng and Ben Gordon. And we would be remiss if we didn't mention the fact that Kobe Bryant also has the right to opt out of his contract in the summer of 2009 and become an unrestricted free agent -- as do Jermaine O'Neal, Richard Hamilton and Al Harrington. So, in theory, it would come down to a question of whether a team could suffer through two years of paying Stephon Marbury (or buying him out) in order to have financial freedom 20 months down the road. And don't forget, teams that have cap space in the summer of 2009 can find ways to maintain that space for the summer of 2010, when LeBron James and Dwyane Wade both become unrestricted. So, you see, Marbury actually does have some value, and there are even a couple of instances where he might even be able to help currently contending teams looking to shed bad contracts. With that premise in mind, here are four trades that work under the salary cap rules and would make differing degrees of sense for all teams involved (keep in mind that we're operating under the assumption that the Knicks would have to be 100 percent committed to getting rid of Marbury in order for them to stomach these deals):

To continue reading this article you must be an Insider
Insider
MARBURY WATCH

Stephon Marbury left the New York Knicks on Tuesday, apparently unhappy with the way things are going under coach Isiah Thomas. Then he played Wednesday against the Clippers.
News
•
Marbury fined $195K
•
Marbury leaves Knicks, misses Suns game
Commentary
•
Adande: Isn't this all worthy of a suspension?
Analysis
•
Broussard: After buyout, Miami could use him
•
Sheridan: Can Knicks trade him?
•
Hollinger point guard ranking: Marbury No. 15
Audio
•
Frank Isola, Stephen A. Smith on motives
Rumor Central
•
The latest Marbury talk
Trade Machine
•
Create your own Marbury deal

MOST SENT STORIES ON ESPN.COM