Commentary
Coaching Hot Seat: Isiah the current favorite
Originally Published:
January 3, 2008
By
Chris Sheridan
| ESPN.com
Isiah Thomas was so defensive, his bravado sounded like delusions of grandeur.
Just 90 minutes before his New York Knicks dropped their fifth in a row Wednesday night, losing a 10-point decision to the Sacramento Kings (who were without Ron Artest, Kevin Martin and Mike Bibby) in a game that was never even close from the second quarter on, Thomas actually uttered the following statement:
[+] Enlarge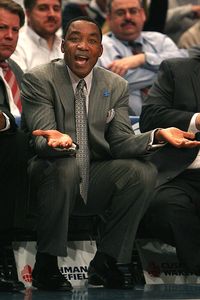 Nick Laham/Getty ImagesIsiah Thomas said he would right the ship in New York. What gives?
"I believe one day we will win a championship here, and I believe a couple of these guys will be a part of that, and I believe I will be a part of that," Thomas said. "And as I sit here today, and people can laugh even more at me, but I'm hell-bent on getting this accomplished and making sure we get it done, and I'm not leaving until we get it done."
So, this again reiterates our oft-repeated theory that you can never say the Knicks have hit rock bottom, because the floor keeps falling. They now have a coach admitting that while these are "dark days," he expects to remain at the helm until leading them to a title.
ESPN.com had asked Thomas at the Wednesday morning shootaround to state how he felt he had changed as a person during his four-plus years with the Knicks, and he declined to answer by stating that he wasn't prepared to give a reply that required some reflection. But seven hours later he had apparently given the matter some thought and he gave what amounted to his most self-righteous defense in weeks.
"I want to leave a legacy, I want to leave a tradition; I want to leave an imprint, a blueprint in terms of how people play and how they respond when they put on a Knicks uniform. I want to leave what I left in Detroit -- every person that walks through that door, when they put on a Pistons uniform, there's a certain pride they carry. I want to put that here and I want to leave that here in New York. I want to leave a championship legacy. This is a dark time for us, but I know there's a light at the end of the tunnel and I'm going to keep pushing and I'm not going to quit. And I'm going to do it here."
In a way, it sounded almost like a pre-emptive farewell speech, just in case. But Thomas also sounded many of the same themes he brought up when he first arrived in New York, back when he predicted Madison Square Garden would become such a hotbed of success that "smoke will be coming out of the building."
Well, there's steam coming out, and it's coming from the hotheaded, fed-up fans who are openly revolting. And absent of some kind of definitive statement from owner Jim Dolan that Thomas is safe for the season, one has to look at things logically and say that, at some point, a change at the helm is warranted.
So despite what Thomas said Wednesday night about sticking around, we're going to make him the prohibitive favorite in our second installment of the Coaching Hot Seat List. (Thomas was a 5-1 co-favorite with Scott Skiles in our mid-November version.)
We'd even go with shorter odds if not for the realization that expecting any kind of predictable, sensible activity involving Dolan, no matter how logical it may seem, is an exercise in risk-taking. Also, we've seen Thomas survive too many times and in too many ways to go any lower than the odds posted below:
To continue reading this article you must be an Insider
Insider
SPONSORED HEADLINES
MORE NBA HEADLINES
MOST SENT STORIES ON ESPN.COM
EDITORS' PICKS
LeBron struggled in his return to Cleveland as New York ruined the King's homecoming.

Westbrook hurt

Two games, two blowouts. Are the Lakers really that bad? Kobe Bryant says no way.