Ten reasons Team USA won't win the gold
Updated:
August 20, 2006, 9:27 AM ET
By
Chris Sheridan
| ESPN Insider
SAPPORO, Japan -- Here we are on the eve of Day 1 of the World Championship, and my heart tells me to go ahead and pick Team USA to win the gold. The U.S. players have developed a great camaraderie, they finally have a head coach who knows which buttons to push, and their confidence is not compromised by any misplaced cockiness. The problem, however, resides a few inches south of my heart. Down there, in my gut, I can't bring myself to pick them. Not when my gut keeps telling me to listen to my brain, and not when my brain keeps seizing upon what I perceive to be their shortcomings -- size and shooting, to name two -- and flashing back to images from 2002 in Indianapolis and 2004 in Athens, and even from competitions that preceded those two debacles.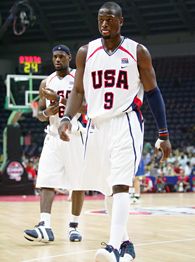 Guang Niu/Getty ImagesCan D-Wade and LeBron overcome Sheridan's 10 reasons they won't win?
The talent is there, but the experience is not. The will is there, but the wisdom is not. And while the camaraderie may be great, the on-court chemistry is still a work in progress. I look at a roster headlined by tri-captains
Dwyane Wade
,
LeBron James
and
Carmelo Anthony
, I rehash everything I've heard them say about making good after their third-place showing in Athens, and I'm tempted to buy into the rah-rah dynamic, dub these guys The Redeem Team and tell y'all how great they're going to do down south in Saitama when the medal round comes along. But I just can't do it.
Here are 10 reasons why:
To continue reading this article you must be an Insider
Insider
FIBA World Championship
Co-captains Carmelo Anthony, LeBron James and Dwyane Wade and coach Mike Krzyzewski lead a U.S. team trying to end several years of disappointing results and bring home the world title.
When: Aug. 19-Sept. 3
Where: Japan
Schedule | Standings | Scoreboard
MEDAL ROUND
• Spain routs Greece for gold medal
• Lithuania beats Germany for seventh place
• Sheridan: Team USA rebounds

• U.S. beats Argentina, wins bronze
• Gasol out with partial fracture
• France beats Turkey, finishes fifth
• Sheridan: U.S. fails at worlds, again

• Broussard: U.S. has lost grip on game

• Greece beats Team USA 101-95
• Spain beats Argentina, will play for gold
• Sheridan: Coach K's Greek tweak
• Fraschilla breaks down final four
• Sheridan: Things to dislike about win

• U.S. beats Germany 85-65 with D
• Greece beats France, awaits U.S.
• Spain, Argentina bring similarities to semi
• Turkey, France will play for fifth
• Sheridan: U.S. ready for Dirk attack

• Sheridan: U.S. will win silver

• Spain, Argentina win, set up showdown
• Sheridan: World media likes U.S. chances

• U.S. routs Australia, 113-73
• Roundup: Nowitzki saves Germany
• Roundup: Argentina, Lithuania win
• Sheridan: Bizarre Lithuania ending
• Scoop: If all else fails, pray
• Fraschilla breaks down round of 16
• Sheridan: U.S. braces for medal round

• Sheridan blog: U.S.-Australia anecdotes
TEAM USA: PRELIMS
• U.S. rests Wade in easy win over Senegal
• Sheridan: Bittersweet for Bosh

• Melo scores 35 as U.S. wins group
• Sheridan: Wake-up call

• Rules: FIBA vs. NBA

• Sheridan: U.S. finding form

• U.S. cruises past Slovenia 114-95
• Sheridan: Battier survives Yao
• USA blows out China 121-90
• U.S. 111, Puerto Rico 100
• Sheridan: Mixed grades for opener

OTHER TEAMS: PRELIMS
• Aug. 24: Nowitzki's 47 fuel Germany in 3 OTs
• Aug. 23: Argentina, Spain win groups
• Aug. 22: Yao can't save China in OT
• Aug. 21: Argentina, Angola reach Sweet 16
• Aug. 20: Puerto Rico gets win
• Aug. 19: Germany, Argentina win

OTHER STORIES
• Wade likes coming off bench
• New Zealand coach resigns
• Battier wears U.S. colors with pride
• Paul dishes on (or to) U.S. stars
• Ginobili doesn't mind sharing minutes
• Angola no longer sacrificial lamb
• Stiebing resurrects career as coach of Qatar

PREVIEW
• Sheridan: U.S. won't win tourney

• Fraschilla: Argentina formidable in Group A
• Fraschilla: Nowitzki, Gasol in Group B
• Fraschilla: Greece, Brazil highlight Group C
• Fraschilla: U.S. favored in Group D


MOST SENT STORIES ON ESPN.COM