Commentary
Keeping it real: Why the Shaq trade isn't working out
Originally Published:
March 7, 2008
By
John Hollinger
| ESPN Insider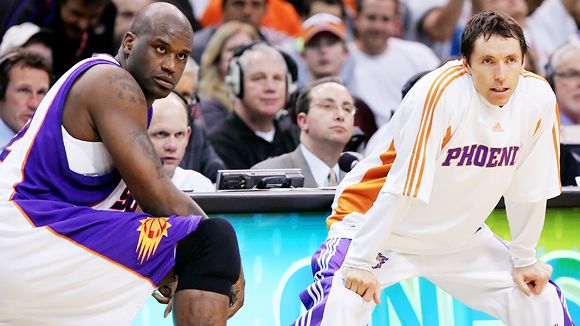 Lisa Blumenfeld/Getty ImagesShaq was brought in to help Steve Nash and the Suns come playoff time. But right now, there's a growing chance that Phoenix doesn't even make the postseason in the super-competitive Western Conference.
"If it works, I'm a genius. If it doesn't, I'm a moron, I guess." -- Steve Kerr
To continue reading this article you must be an Insider
Insider
John Hollinger
John Hollinger writes for ESPN Insider.
To e-mail him, click here.
Recent columns
•
All-Defense teams
•
How the West will finish
•
Hornets stirring it up out West
•
The secret to Rockets' streak success
•
Which NBA records are ready to fall?
•
The All-Sleeper Team
•
Are centers a dying breed?
•
Rating college prospects
Playoff Predictor
•
Does your team have plans for the playoffs?
•
How the Playoff Predictor works
•
Fastbreak: Who's headed for playoffs, lottery?

Rankings
•
Hollinger's Daily Power Rankings: Who's No. 1?
•
Hollinger's PER stats
•
PER stats: Point Guards
•
PER stats: Shooting Guards
•
PER stats: Small Forwards
•
PER stats: Power Forwards
•
PER stats: Centers
•
PER stats: Rookies
•
PER stats: International
•
What is PER?
•
Hollinger Team Statistics