Commentary
Advantage, Nuggets: Financial reasons to like deal for Denver
Originally Published:
November 3, 2008
By
John Hollinger
| ESPN.com
Here are two financial advantages for the Nuggets in dealing Allen Iverson:
1. It puts Denver's trade exception back in play … now or later.
Here's a really clever move: Denver used some maneuvering to swap out the old trade exception from the Marcus Camby trade into a new one. The old one would have expired in July and was worth $10.1 million, but the new one is worth $9.79 million and doesn't expire until November 2009. So now the Nuggets have all of the summer to use their exception if they so choose, a nice side benefit to the deal.
To continue reading this article you must be an Insider
Insider
A.I., BILLUPS, MCDYESS TRADE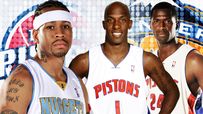 Detroit's Chauncey Billups and Antonio McDyess were traded for Denver's Allen Iverson, writes Marc Stein.
Story
|
Watch: Ric Bucher
---
Henry Abbott

In another blockbuster trade to sweep the NBA, Joe Dumars grabs one of the league's stars and is ready to cast his net again.
Joe Dumars strikes big
---
Chad Ford

How big a risk will this deal be for the Pistons this season? Was Joe Dumars smart for letting Chauncey Billups go to Denver?
Trade risk for Pistons
---
John Hollinger

Detroit had its reasons for making the trade, but Denver came away by winning on the court and on its bottom line.
Denver's trade advantage
---
J.A. Adande

With Chauncey Billups moving on, it's now safe to say that the Pistons' no-superstar approach didn't work out.
End of an era in Motown
---
David Thorpe

How does this deal work out for each team? Do the Pistons get that explosive player they've been lacking?
Expectations for A.I., Billups
---
Jemele Hill

Now that he doesn't have to carry a franchise on his back, Detroit might be the best thing to happen to A.I.
Iverson's comfort level in Detroit
---
More Trade Content
•
NBA Live 09: Trading Places
•
Fantasy: Biggest winners in deal
•
Watch: Stephen A. Smith's trade breakdown
•
Trade Machine: The deal details
•
Vote: Which team got the better deal?
•
Watch: Nuggets' players react
•
Watch: Ric Bucher breaks down the deal

MOST SENT STORIES ON ESPN.COM