Commentary
All-Defense: Who brought the D this season?
Originally Published:
April 10, 2008
By
John Hollinger
| ESPN Insider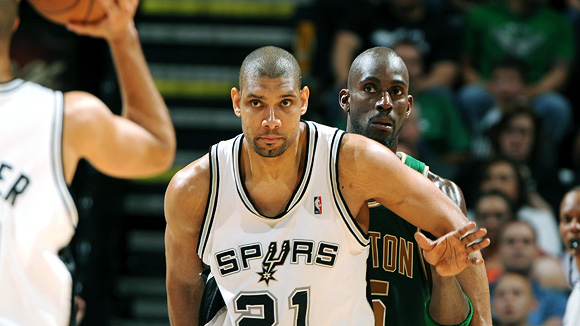 Andrew D. Bernstein/NBAE via Getty ImagesTim Duncan and Kevin Garnett anchor two of the top defenses in the league. And they do it very well.

It's time, once again, for the year-end awards, and there's one set of awards in particular that's extremely difficult to hand out.

I'm referring to the All-Defense team, because choosing one remains as much art as science. Despite the best efforts of numbers guys, like me, to shine some light on individual defense, there still are many dark corners.

To continue reading this article you must be an Insider
Insider
John Hollinger
John Hollinger writes for ESPN Insider.
To e-mail him, click here.
Recent columns
•
All-Defense teams
•
How the West will finish
•
Hornets stirring it up out West
•
The secret to Rockets' streak success
•
Which NBA records are ready to fall?
•
The All-Sleeper Team
•
Are centers a dying breed?
•
Rating college prospects
Playoff Predictor
•
Does your team have plans for the playoffs?
•
How the Playoff Predictor works
•
Fastbreak: Who's headed for playoffs, lottery?

Rankings
•
Hollinger's Daily Power Rankings: Who's No. 1?
•
Hollinger's PER stats
•
PER stats: Point Guards
•
PER stats: Shooting Guards
•
PER stats: Small Forwards
•
PER stats: Power Forwards
•
PER stats: Centers
•
PER stats: Rookies
•
PER stats: International
•
What is PER?
•
Hollinger Team Statistics