Nuggets now NBA title contenders? Answer: Yes
Updated:
December 20, 2006, 2:53 PM ET
By
John Hollinger
| ESPN Insider
Just when you thought the West couldn't get any tougher, here comes another contender. In one fell swoop on Tuesday, the
Denver Nuggets
went from a nice team that had little chance of making it past the first round to a legitimate threat to win the whole enchilada.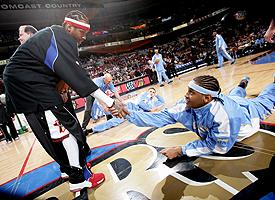 Jesse D. Garrabrant/Getty ImagesAllen Iverson and Carmelo Anthony have the potential to do great things together.
Yes, I said they can win it all.
Everything.
As in, hoisting the Larry O'Brien trophy in June, having a Coors-soaked parade under the shadow of the Rockies, and being linked to conspiracy theories all summer as the result of a few strange calls by Bennett Salvatore. As you might have guessed, I think this trade was an absolute home run for the Nuggets, one that elevates them into the grouping with the Spurs, Suns and Mavericks when we discuss the league's elite. (Sorry Utah fans, I'm not quite ready to go there yet. Gimme another month and I'll take it under advisement.) I'm still amazed that the price wasn't higher, and I sure hope for the Clippers' sake that
Shaun Livingston
-- whom they deemed untouchable -- turns out to be a big star, because otherwise they're going to be wiping egg off their faces for a long time. Yes,
Allen Iverson
can be a pain in the butt. For one thing, he's not big on the whole idea of practice. Plus, he's likely to miss some time with injuries, and he's already 31. Just to make sure we're covering all the negatives, the trade also cost the Nuggets their best (some would say "only") passer in
Andre Miller
, subtracted frontcourt depth with the loss of
Joe Smith
, and forces two of the game's most tunnel-visioned scorers to share a single leather basketball. In spite of that, I love it. Here's why:
To continue reading this article you must be an Insider
Insider
IVERSON DEALT TO DENVER
How do you replace the NBA's top scorer? By trading for the league's No. 2 scorer. Denver has landed seven-time All-Star Allen Iverson -- sending Andre Miller, Joe Smith and two first-round picks to Philadelphia on Tuesday. The 76ers now have three first-round picks in a deep and talented 2007 draft.
Stories
• A.I. tells Stephen A. he didn't demand trade
• Heat's Riley thinks A.I. will fit in Denver
• Sixers deal Iverson to Nuggets
• Melo mulls suspension appeal
• Fans, Carmelo welcome Iverson
• A.I. scoring East All-Star votes
Analysis
• Stein: Gotta love Nuggets' move
• Sheridan: 76ers could lose pick

• Broussard: A.I. brings fun

• Hollinger: Nuggets can win ring

• Karabell: Fantasy impact
Video
• Iverson: New Beginnings

• A.I. tells his side of story

• Sixers discuss deal

• Karl looks forward to A.I.

• Barkley, Wilbon weigh in

• Karabell: Fantasy impact

• ESPN's Kiki, Sheridan react

• Stephen A.: Good trade
Podcast
• Stephen A. Smith: Win-win trade

• Marc Stein shares details

• Dish: Denver VP Chapman

• Broussard: Good trade for both

• Legler: Philly native's take

• Kiki: Tried to get A.I.

• Sheridan: Melo effect
Interactive
• Vote: Good deal?
Timeline
• A look at Iverson's career

From the archive
• Simmons: Don't question The Answer


MOST SENT STORIES ON ESPN.COM